Murray Evans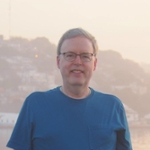 Title: Professor Emeritus
Email: m.evans@uwinnipeg.ca
Biography:

My degrees include an A.R.C.T. in Piano Performance (Royal Conservatory of Music), Honours B.A. (Trent), and M.A. and Ph.D. (Queen's). Trained as a medievalist, I have pursued my interests in most major medieval authors into work on the importance of reading medieval texts not only in modern editions, but also in their original manuscript contexts. Other research, on why several critics call Langland's Piers Plowman "sublime," has led to my work on Coleridge and the Romantic sublime. My most recent book project explores the relation between Coleridge's neglected later prose and recent sublime theory. My practice as a performing pianist—particularly of Romantic and post-Romantic composers such as Chopin, Brahms, Scriabin, and Rachmaninoff—has an abiding, if often unspoken influence on my scholarship and teaching.
Teaching Areas:
Medieval literature, Coleridge, C.S. Lewis and other Inklings, children's literature, literary and cultural theory, literary history.
Publications:

Essays on Malory, the Malory manuscript, Chaucer, Langland, Bodl. Lib. Manuscript Laud Misc. 108, C.S. Lewis, and Coleridge.
Selected Publications
"Sublime Discourse and Romantic Religion in Coleridge's Aids to Reflection." The Wordsworth Circle 47 (2016): 27-31.
Sublime Coleridge: The Opus Maximum. New York: Palgrave Macmillan, 2012.
"Coleridge as Thinker: Logic and Opus Maximum," The Oxford Handbook of Samuel Taylor Coleridge, ed. Frederick Burwick. London & New York: Oxford UP, 2009. 323-41.
"Piers Plowman and the Sublime." Exemplaria:  A Journal of Theory in Medieval and Renaissance Studies 9 (1997): 421-40.
Rereading Middle English Romance: Physical Layout, Decoration and the Rhetoric of Composite Structure in Some Late Medieval Manuscript Collections. Montreal & Kingston, London, Buffalo: McGill-Queen's Univeristy Press, 1995.
"Ordinatio and Narrative Links: The Impact of Mallory's Tales as a 'hoole book,'" in Studies in Malory, ed. James W. Spisak. Kalamazoo, Mich.: Medieval Institute Publications, 1985. 29-52.