New Member Feature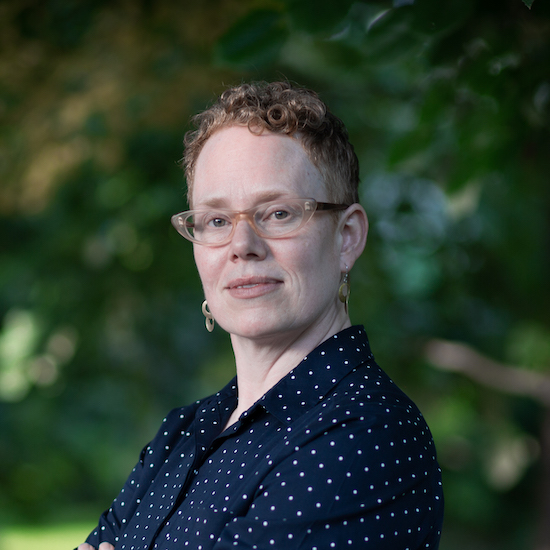 Julie Chamberlain joined CRiCS and UWinnipeg as Assistant Professor in Urban and Inner-City Studies in 2021. She is fascinated by how dominant discourses shape policy, practice, and the lived experiences of urban dwellers. Her education is in anti-oppressive social work, adult education, and environmental studies, and her research and teaching centres activist scholarship and community-based knowledge production in and about cities. She researches anti-racist approaches to urban development and planning, community-based planning and development, and how residents of stigmatized neighbourhoods in Germany and Canada experience planning.
Learn more about Julie from the short interview we conducted with her below: 
CRiCS: What are your areas of research interest? 
Julie: I have many interests! But what I generally work on at the moment is research related to anti-racism and anti-oppression in urban and community development and planning, and the relationships between social and spatial justice more broadly.
CRiCS: Are there areas you would like to study or considered working on in the past, but probably won't get to? Have you ended up doing research in an area that you didn't expect to?
Julie: I didn't expect to end up so engaged with the worlds of urban development and planning in my research. It is a focus that emerged out of necessity, from an interest in how so-called "problem" neighbourhoods and the people who live in them are talked about. I wanted to know what that urban "problem" discourse does (very much informed by Foucault at the time), and a decade later I find myself consistently working at the intersection of urban space, discourse, policy and practice, and social life. 
CRiCS: What research projects are you currently working on or plan to work on in the future?
Julie: I'm currently working on two community-based projects in Winnipeg, in South Valour and the North End. They're about grassroots, anti-oppressive approaches to creating a sense of neighbourhood safety, and how small grants for community projects make a difference for residents. I hope to expand this community-based work in the future, and also to return to Germany to continue to study planning discourse and practice there, particularly in Hamburg.  
CRiCS: Has any particular book/film/work of art/etc. influenced your approach to your academic work and your perspective more generally?
Julie: Two texts that have really influenced my research are George Dei's (2005) introduction to Critical issues in anti-racist research methodology, and Laura Pulido's (2008) article "FAQs: Frequently (un)asked questions about being a scholar activist," which appears in Engaging Contradictions: Theory, Politics, and Methods of Activist Scholarship, edited by C. R. Hale. Both works offer opportunities to think through and plan approaches to research that align critical and radical goals and values with actual research process, including everything from how you frame questions, to the methods you choose, and how you communicate about what you're doing. They're very generative readings for researchers who are invested in social change, but know that just producing information doesn't necessarily create a more just and equitable world.
CRiCS: What do you do in your free time (if you have any!)? Do you have any hobbies or pets?
Julie: I love to swim, to sew clothes, and cook vegetarian meals. I have a rescue dog, Enzo, who is a giant ball of love I adopted when I arrived in Winnipeg. I also love to dance -- I'm currently trying to figure out where/if people go out dancing in Winnipeg, suggestions are very welcome!