Student FAQ
COVID-19 FAQ (Updated: April 9, 2020)
---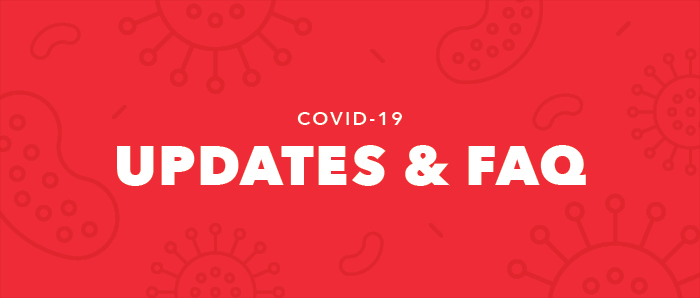 Can I choose how my final grade will appear on my GPA?
Yes. Due to the COVID-19 public health emergency, University of Winnipeg students may choose how their grades will affect their grade point average (GPA) calculation for the Winter 2020 and Fall/Winter 2019-20 terms. Refer tp our Final Grade Options FAQ for help navigating this decision.
When is the voluntary withdrawal date for my winter term courses?
The voluntary withdrawal date for winter term courses, has been moved to April 21, 2020. 
Will I get a refund if I voluntarily withdraw from my winter term course/courses before April 21, 2020.
No, your last date to withdraw and receive a refund was January 17, 2020. 
Will spring convocation be affected?
We are postponing our June convocation ceremonies to safeguard everyone's well-being during the current public health emergency. Our intention, circumstances permitting, is to hold these ceremonies in the fall. Every graduate deserves to attend their convocation.
If in-person classes are moving to alternate delivery, does that mean The University of Winnipeg campus is closed?
As of 5:00 pm, Monday, March 23, all campus buildings will close until further notice. Access will be limited to those who are delivering essential services, such as security, physical plant, food services and residence staff. Other faculty and staff who need access to campus must be authorized by their department chair/dean or supervisor and check in with Security Services when coming to campus.
If in-person classes are moving to alternate delivery, does that mean my classes are cancelled?
No, classes are not cancelled. Our goal is to support students in successfully completing their courses. Deans and department chairs are working collaboratively with faculty on alternate methods of course content delivery and are actively planning how to support you in completing your course. 
Will there be any in-person classes or exams taking place on campus this semester?
No, there will not. All classes are moving to alternate delivery. There will be no in-person exams this term. Exams may be conducted online, through Nexus, or by other means.
We appreciate your patience and understanding as we adjust our activities in accordance with provincial and federal health agency guidelines.
Will there be any in-person classes taking place on campus in the spring term?
We will be offering spring term courses online. We will not be offering in-person classes.  Courses are now listed in WebAdvisor, and in the Timetable. Watch this space, as we expect to continue adding new courses.
We will be emailing students with their assigned online registration time on April 7,2020. Tiered registration for spring term will take place from April 13 - 27, 2020. Open registration will begin April 28, 2020.
What is happening with final assignments for my courses?
Final assignments may be conducted online, through Nexus, or by other means.  
How will final grades be determined?
All academic instruction and evaluation will continue through alternate delivery. 
What if I need more time to complete my term work?
Students may contact Academic and Career Services at 204.786.9257 or advising@uwinnipeg.ca if they need to submit an academic appeal for additional time to complete term work or request a deferred final exam.
Academic and career advisors can explain the process. Medical documentation will not be required at this time. Students with accessibility needs can also contact Accessibility Services at 204.786.9771 or accessibility@uwinnipeg.ca to submit appeals.  
News of COVID-19 is causing me anxiety. Where do I turn?
The University of Winnipeg Student Counselling Services is available to provide support and counselling to students.  University counsellors are working off site, but are available to provide telephone support.  Please email studentwellness@uwinnipeg.ca or call 204.988.7611 to arrange a telephone meeting.
The Anxiety Disorders Association of Manitoba (ADAM) has established an anxiety support line for anyone seeking support during this challenging time.  You can call their support line at 204.925.0040.  The line will be checked regularly between the hours of 9:00 am and 9:00 pm, Monday through Friday, and 10:00 am to 4:00 pm on weekends.  If you leave your name, phone number or email address, an ADAM representative will get in touch with you within a short period of time. Visit their website for more information.  
Manitobans will also soon have access to a new digital therapy program, AbilitiCBT, to help with anxiety symptoms related to the COVID-19 pandemic. 
I have a question about a specific course. Who do I contact?
Please contact your instructor or department chair. They are committed to supporting your success.
What will happen with my co-op or work integrated learning placement?
Changes to co-operative placements and other work-integrated learning will be determined by those who are supervising students in the field.
I am a student with accessibility needs. Will I get my required accommodations?
Yes. Contact Accessibility Services at 786.9771 or accessibility@uwinnipeg.ca  discuss academic accommodation arrangements.
Where do I find answers to my questions about textbooks?
The Campus Store is offering free shipping on all online orders, with no minimum purchase, and extending the non-return period without penalty. Please visit the Campus Store website for further updates.
Is the library open?
All in-person library services have been moved to alternate delivery and the physical library facility is now closed. Access to digital resources remains unaffected, and staff are working remotely to delivery most services online. Visit our Service update page to find out how the library is delivering services and for a complete list of the resources that are currently available. 
The Library will be extending material loans until September 15, 2020. Borrowers are encouraged to keep their materials, but books can still be returned to the book drop at the south entrance of Centennial Hall by checking in at the security booth. 
Is campus recreation still open?
The Bill Wedlake Fitness Centre will close at the end of day, March 13 (today). View Recreation Services notice to students, faculty, staff and public users of their facility for full details.
Can I still get stuff from my locker on campus?
Locker rental periods originally scheduled to end April 21, 2020 will be extended until further notice as a result of the campus closure.  There will not be any new locker rentals during Spring Term (May-August). If you urgently need to remove items from your locker during this period, please contact Student Central at studentcentral@uwinnipeg.ca.
Can I still order a transcript?
Yes. In order to ensure the safety of our staff and students, we will not be accepting in-person transcript requests or in-person pick up of completed transcripts at this time, but you can reach us by email.
We recommend submitting transcript requests via the scanned email option, paying by Mastercard or Visa. If you require a different payment method, contact Student Central at studentcentral@uwinnipeg.ca.  Please note that our transcripts processing may be experiencing delays during this time. We thank you for your patience.
How do I hand in an awards application form?
UWinnipeg Award Applications will be accepted electronically until our office re-opens. Go to the Awards site to learn more.
What will happen with my student loan?
To support student loan borrowers during the COVID-19 pandemic, the Government of Canada and the Government of Manitoba have announced their plans to pause the repayment of student loans until September 30, 2020, with no accrual of interest. For more information visit
National Student Loans Service Centre
 and
Manitoba Student Aid
. If you have other financial aid questions, visit UWinnipeg's 
Awards and Financial Aid
website.
---
Where can I get more information?
We will be updating this website as more information comes available. 
You may wish to access the Manitoba COVID-19 screening tool posted online by Shared Health Manitoba. 
For links to more information, review the following FAQ's, and visit the Province of Manitoba and Government of Canada websites. These sites are being updated regularly with up-to-date, accurate information.