Student FAQ Fall 2020
COVID-19 FAQ (Updated: August 31, 2020)
---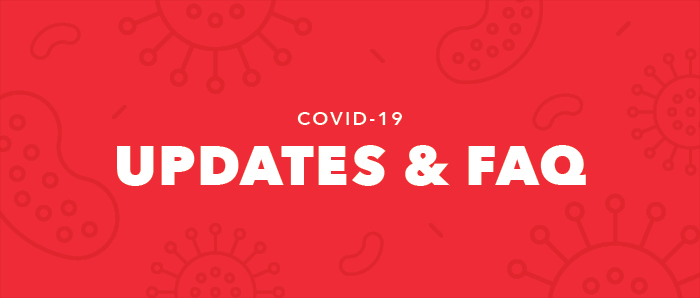 Will Fall Term classes be online? 
UWinnipeg will deliver the bulk of its educational instruction through alternate modes of delivery for the fall term. Select courses, which cannot be delivered remotely, will be delivered on campus. The timetable is posted on WebAdvisor.
How will my Fall online courses will be delivered?
Courses will be delivered in a variety of ways; online synchronous, online asynchoronous, live via video-conferencing, and through Nexus, and Nexus+.
You will find specific details in the meeting info/notes sections of WebAdvisor course descriptions. To understand what these delivery methods mean, review our definitions of key terms.
What about labs?
UWinnipeg will deliver the bulk of its educational instruction through alternate modes of delivery for the fall term. Some labs, which cannot be delivered remotely, will take place on campus.
Will Winter Term classes be online or in-person?
Winter Class registration will take place at the same time as Fall and Fall/Winter registration. The University of Winnipeg will continue to follow provincial health guidelines and will use this information to determine the format of Winter classes later in the Fall term.
Will I be able to access campus during the Fall Term?
Most classes will be delivered online. If you are in one of the select classes taking place on campus, or if you need access to an on-campus workstation to study, please review our On-campus Learning FAQ. We ask that you only stay on campus during required class/study periods and to spend the minimum amount of time on campus as possible.
How do I get a student card this fall? 
Returning students: Continue to use the student card you already have.
New students: Email a photo which meets The University of Winnipeg's student card criteria to studentcentral@uwinnipeg.ca from your University webmail account. The email should include your full name and student number. Cards will be made using the photo you provide. Deadlines, designated pick-up times, and details can be found on Student Central's website. Physical distancing protocols will be in place when you pick up your student card on campus. 
Will there be a U-Pass this year?
The UWSA has determined that the UPass will not be in place this fall.
The UWSA is in discussions with the City of Winnipeg to determine whether there will be a UPass during the Winter 2021 term. Once a decision is made, students will be notified.
What supports are available if I am having difficulty with my own motivation and studying?
Student Services is offering information and supports remotely. Please contact us at:
What supports are available for graduate students?
Please refer to the COVID-19 Graduate Student Supports page for information about remote learning, thesis examinations, library pick-up services, post-graduate work permits, and more.
COVID-19 is causing me anxiety. Where do I turn?
The Anxiety Disorders Association of Manitoba (ADAM) has established an anxiety support line for anyone seeking support during this challenging time.  You can call their support line at 204.925.0040.  The line will be checked regularly between the hours of 9:00 am and 9:00 pm, Monday through Friday, and 10:00 am to 4:00 pm on weekends.  If you leave your name, phone number or email address, an ADAM representative will get in touch with you within a short period of time. Visit their website for more information.  
Manitobans also have access to a new digital therapy program, AbilitiCBT, to help with anxiety symptoms related to the COVID-19 pandemic. 
Will there be any fee reductions in the Fall Term as all classes are online?
The majority of classes will be delivered remotely in the fall. We will be waiving the online course fee for fall term, as we recognize that this is a very difficult time for everyone, and are doing this to support our students as they pursue their studies. The fitness centre fee will be waived for the fall and fall/winter terms. This fee provides a membership to the fitness centre, which is currently closed.
---
CAMPUS ACCESS TO SERVICES & SUPPORTS
When can I get access to my locker? 
Locker rental periods originally scheduled to end April 21, 2020 will be extended until further notice as a result of the campus closure. If you would like to clear out your locker, please contact Student Central at studentcentral@uwinnipeg.ca with a date and time that you would like to come to campus. Lockers can be cleared out 8:30-4:30 Monday-Friday. Please include your full name, student number, and locker number in the email. Students attending labs in the Richardson College for Science and the Environment will be able to use day lockers during their time in class. Once your class period is over, you will need to remove all of your belongings.
Will in-person Student Services be available? 
Student Services is presently working remotely and will provide in-person services when it is safe to do so. In the meantime, don't hesitate to contact us for assistance as we are here to help you.
Once the phased re-opening plan is complete, more information will be provided, so watch this space for updates.
Will faculty members and department assistants be on working campus? 
Faculty and Department Assistants are presently working remotely and will provide in-person services when it is safe to do so. During Fall Term, we will have campus ambassadors available in designated buildings to point you in the right direction and answer your questions while you are on campus. Look for staff wearing white shirts with The University of Winnipeg Logo.
Will we have access to the Elders-in-Residence?
Our elderly populations are the most susceptible and at-risk for contracting the COVID-19 virus.  ASSC has decided to postpone their return to campus until it is safe for Elders, students, and staff to return. Access to Elders will be available via remote appointment only. For more information or to book an appointment with an Elder, contact Jeff Booth at j.booth@uwinnipeg.ca or 204-786-9818.
Will the ASSC Student Lounge be available?
With social distancing in affect, campus closure, and Fall term classes available online only, the student lounge will not be available to students until further notice.
Will the ASSC still host cultural and social activities?
All cultural and social activities are postponed until further notice.
Will there be any arrangements made for students who do not have access to a computer or printer?
Yes. All registered students; including undergraduate, graduate, PACE, ELP and Collegiate students are eligible to book space at a computer work-station. Students will be allowed to book up to two sessions per week. This may change depending on demand for space. Please see our On-campus Learning FAQ for information about studying on campus.
While not endorsed by the University of Winnipeg, Computers for Schools Manitoba – a non-profit organization that provides free or low-cost refurbished desktop computers to post-secondary students – might be a helpful external resource. 
---
GRADES & COURSES
What will happen with my degree progression if I need courses that can't be offered this year due to the current situation?
Courses are expected to be offered but will be in alternate modes of delivery. Degree progression should not be significantly affected.
Will the University write me a support letter in cases where a course has been postponed or changed to online due to COVID?
Yes. Documentation confirming changes to course offerings and/or changes in delivery mode will be made available upon request.
When can I get a hard copy of my transcript?
The Student Records Office is continuing to issue official transcripts electronically within our standard processing time of five business days. In special cases and during busy periods, the time may be seven to 10 business days.
Students can request, at the time of ordering, an official printed transcript. Please allow two to four weeks for physical copies to be produced.