Remote Learning FAQ
Looking for information on Remote Learning? This helpful FAQ will provide answers to some of your most pressing questions as you seek to keep up with classwork, listen in on lectures, or find help getting started with Remote Learning.
Are there resources to help me teach, learn, and research remotely?
My instructor is using Zoom to deliver my course lectures. What do I need?
You will need:
A computer with access to high speed internet
Speakers/earphones to be able to hear the instructor
A microphone and/or webcam to be able to participate with audio and/or video if required - text chat may be used if your instructor has enabled this function
Visit the Zoom Help Centre for a list of computer requirements including operating systems, devices, and browsers.
How do I access my Zoom lecture?
Your instructor will send you a URL link to access the scheduled Zoom lecture session. This may be done by:
Email from your instructor containing the necessary information including the URL link
Announcement with the URL link in your Nexus course site (if your instructor is using Nexus)
Alternate communication method, as determined by your instructor
What happens when I click the URL link?
The Zoom desktop app will download automatically to your computer when you start or join your first Zoom lecture.
You may need to install it – follow the prompts. Then click "Open Zoom Meeting" to join.
You do not need your own Zoom account to participate in the Zoom lecture, and you do not need to sign in on the Zoom website.
The next time you join a Zoom lecture, the Zoom app will automatically launch (see image below). Click the "Open Zoom Meetings" button.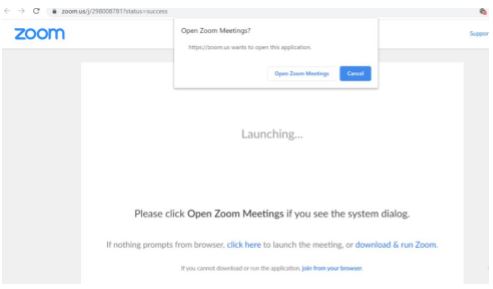 Once the Zoom app has launched, you can choose to test your speaker and microphone, and/or join with computer audio.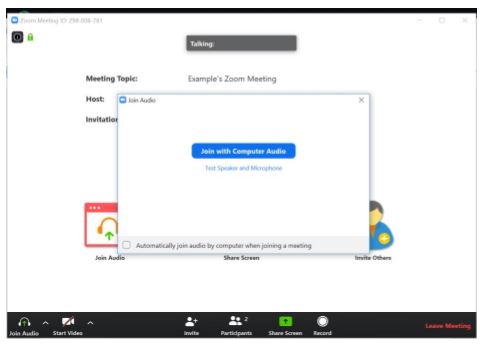 How do I choose my meeting controls?
Meeting controls allow you to mute or unmute your microphone, start or stop a video, share your screen, access the chat window, and more. Access to these controls is dependent on whether you access a Zoom lecture on your computer or a mobile device. Not all controls may be visible; they may be disabled.
For a detailed description of the meeting controls on computer or mobile devices, please visit the Zoom Help Centre.
Can I view my Zoom lecture using my mobile device?
Yes. Prior to accessing the URL link from a mobile device, download the appropriate mobile app:
Please ensure your mobile device is supported, including Wi-Fi, network, and browser as indicated in the Zoom System Requirements.
How do I access technical support?
If Zoom is not working properly for you, the first step is to ensure your software is up to date. Step-by-step instructions are available in our How to update your Zoom software PDF.
If you need support or assistance with Zoom related issues, contact UWinnipeg's Media Services team by emailing remoteteaching@uwinnipeg.ca.
Who do I contact for help?
How do I find supporting lecture materials?
Please login to your Nexus account to access course materials.
Get started and log into your courses in Nexus and/or where to find your log in information
Use Nexus by watching the Introductory Videos or following the written Nexus Guide
Explore the Student FAQs to find an answer to a specific question/problem
To contact Nexus support, please visit Nexus support.
How do I access my email?
It is important to check your UWinnipeg email regularly. You will receive communication from the University directly to you through your email address.
To access your email please go to Student Email. Enter your username and password.
For technical support, please reach out to Technology Service Desk.