International student FAQ
Covid 19 FAQ (Updated: April 3, 2020)
---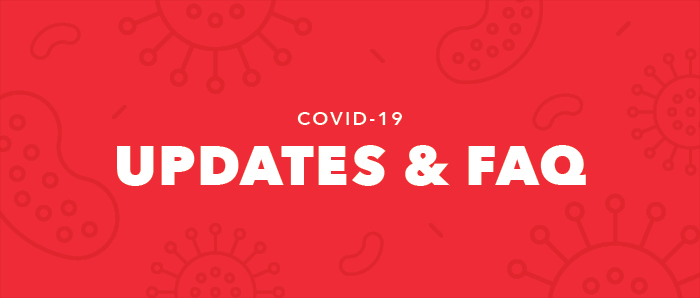 ---
Current Students
Will alternate delivery methods of my winter term classes affect my study visa or post-graduation work permit?
No. Immigration, Refugees, and Citizenship Canada (IRCC) has stated that the delivery method for your winter term classes will still be considered 'in-class' for the purpose of your study permit, visa applications or renewals.  Courses of study being delivered by alternate delivery modes, on an exceptional basis due to COVID-19, will not affect study visas or  post-graduation work permit program eligibility.
Will alternate delivery of my winter term classes be considered a scheduled break?
No. Although in-class lectures have been cancelled, courses will resume via alternate delivery methods until the end of the term.
Your classes will move from in-person to alternate modes of delivery. This means international students with valid study permits are not allowed to work full-time off campus during the rest of the winter term.
Will alternate delivery methods of my spring term classes affect my study visa or post-graduation work permit? 
Since spring/summer term is considered a scheduled break, it is not mandatory for current international students to take courses during this term. During a scheduled break:
if you are an international student with a valid study permit, you can stay in Canada without taking courses in the spring/summer term.
20, and are planning to enroll in 9 credit hours or more in Fall 2020, you are eligible to work full time in the spring/summer term.
If you wish to work off campus, you must have a valid study permit with working conditions specified on the permit.
Am I eligible for Employment Insurance (EI) if I am laid off due to the COVID-19 situation?  And how do I apply for EI?
We are not able to answer questions about EI eligibility as this is determined solely by the Government of Canada.
If you have been laid off due to the COVID-19 situation, or have questions or concerns about EI, such as eligibility, or how to apply, please visit the Service Canada website. 
As an international student, you may be eligible to receive the Canada Emergency Response Benefit (CERB) if you meet the other eligibility requirements.
The benefit is available to workers:
residing in Canada, who are at least 15 years old;
who have stopped working because of COVID-19 or are eligible for Employment Insurance regular or sickness benefits:
who had income of at least $5,000 in 2019 or in the 12 months prior to the date of their application; and
who are or expect to be without employment or self-employment income for at least 14 consecutive days in the initial four-week period. For subsequent benefit periods, they expect to have no employment income.
Can you receive the Canada Emergency Response Benefit if you are not a citizen or permanent resident?
To be eligible for the Canada Emergency Response Benefit, you must reside in Canada and have a valid Social Insurance Number.
Workers who are not Canadian citizens or permanent residents – including temporary foreign workers and international students – may be eligible to receive the Benefit if they meet the other eligibility requirements.
https://www.canada.ca/en/services/benefits/ei/cerb-application.html
Service Canada is recommending that applications for EI are completed online. If you would like more information other than what is available on the Service Canada Website, please contact them directly at 1-800-206-7218. Please note that Service Canada is experiencing a high volume of calls so the wait time will be longer than usual. 
If I am a current international student, will I be able to enter and exit Canada freely?
At this point, we do not recommend unnecessary travel.
If you have urgent travel needs, please check with International, Immigrant and Refugee Student Services (IIRSS)  to ensure you have the necessary permit to travel, and contact the airline you have booked your ticket with for the latest updates on border closings.
For the most up-to-date information on border crossing, please visit the Canada Border Service Agency, and Government of Canada Immigration and Citizenship websites.
What if I return home prior to completion of my final exam?
There will be no academic penalty for students who leave Canada due to the current global situation.  
You will be granted a deferred exam that would be written at a later date.
Do I still have valid health insurance/coverage?
If you are an undergraduate or graduate international student, you have coverage until August 31, 2020.
We encourage you to contact International, Immigrant and Refugee Student Services (IIRSS) directly to confirm coverage and/or answer any health insurance related questions. 
Will I still be able to receive a Letter of Enrollment for immigration purposes?
International undergraduate students can request letters of enrollment via email at iirss@uwinnipeg.ca
Graduate students must contact Student Central to request a Letter of Enrollment studentcentral@uwinnipeg.ca
Where can I find more information?
Please monitor The University of Winnipeg website, your Nexus account, and your University webmail for updates.
If you are a current student with questions or concerns, contact International, Immigrant and Refugee Student Services at 204.786.9469 or iirss@uwinnipeg.ca. They can provide advice about your student permits and supports available.
IIRSS will communicate all updates from IRCC to current students as we receive updates and clarification.
---
New student FAQs*
I am a new international student beginning undergraduate studies in May. Should I still come?
During this rapidly evolving situation, we recommend that new international students do not book travel to Canada for spring term.
If you are an accepted student, University staff will be reaching out to you with options and next steps as quickly as possible.
We are currently exploring options for students who would like to begin their studies online. Please monitor the email that you used to apply for important updates.
I have been accepted, but would like to defer. What do I do?
If you would like to defer your spring 2020 acceptance to fall 2020, please email International Admissions at: international.admissions@uwinnipeg.ca with your student number and full name from your application.
If your Letter of Acceptance (LOA) is not currently valid for Fall 2020, you can ask us to issue a new LOA to begin your studies in September 2020.
I have already made a deposit/pre-payment? What will happen to it?
Administrative fees held against tuition pre-payments and deposits will be waived, and we will not require documentation proving a study permit denial.
To request a refund, complete an International Student Refund Request Form (PDF Version) (Word Version), and email it to iirss@uwinnipeg.ca.
Where can I get more information?
If you are a new or prospective international student, email welcome@uwinnipeg.ca. Our student recruitment team is available to answer your questions.
*Do the above answers also apply to students applying to the English Language Program?
If you are a prospective student in our English Language Program, the answers may be different for you. Email infoelp@uwinnipeg.ca to confirm details relating to your studies.