Health and safety FAQ
COVID-19 FAQ (Updated: April 7, 2020)
---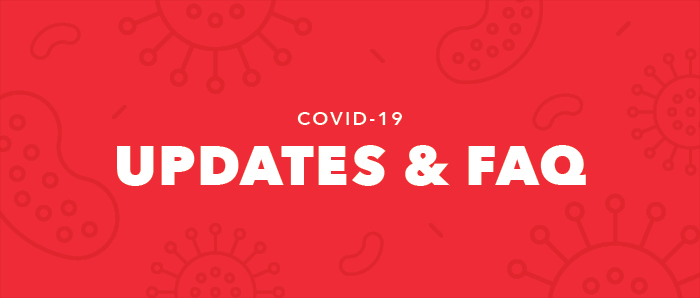 Are there any presumed or confirmed cases of COVID-19 on campus?
No, there are currently no laboratory-confirmed cases of COVID-19 on campus. Manitoba announced its first laboratory-confirmed presumptive positive COVID-19 cases on March 12.
What can individuals do to prevent COVID-19 from spreading?
We encourage you to print a copy of our Stop the Spread poster which shares tips to avoid contracting and spreading COVID-19 or other respiratory illness.
Common prevention measures include: regular hand washing with soap and water or an alcohol-based hand cleanser; covering your mouth and nose when coughing and sneezing; and avoiding contact with anyone showing symptoms of a respiratory illness, such as coughing or sneezing.
It is important to wash your hands:
after coughing or sneezing;
when caring for a sick person;
before, during, and after food preparation;
before eating;
after toilet use; and
when hands are visibly dirty.
For further information on how to help prevent the spread of COVID-19, review the FAQs provided by Manitoba Public Health and protective measures and myth busters provided by the World Health Organization.
News of COVID-19 is causing me anxiety. Where do I turn?
For students: The University of Winnipeg's Student Counselling Services is available to provide support and counselling to students.  University counsellors are working off site, but are available to provide telephone support.  Please email studentwellness@uwinnipeg.ca or call 204.988.7611 to arrange a telephone meeting.
For faculty and staff: The booklet, Mental health support through the coronavirus (COVID-19) pandemic, provides mental health advice and insights based on the current pandemic. It is a great resource, created as part of UWinnipeg's Employee Assistance Program, which offers a range of resources to support your mental health and well-being.
The Anxiety Disorders Association of Manitoba (ADAM) has established an anxiety support line for anyone seeking support during this challenging time.  You can call their support line at 204.925.0040.  The line will be checked regularly between the hours of 9:00 am and 9:00 pm, Monday through Friday, and 10:00 am to 4:00 pm on weekends.  If you leave your name, phone number or email address, an ADAM representative will get in touch with you within a short period of time. Visit their website for more information.
What is UWinnipeg doing to prevent this virus from spreading on campus?
We have made a number of changes to our campus operations to help safeguard the health of the UWinnipeg community, including moving classes to alternate delivery. Please see our student FAQ or faculty and staff FAQ for answers to your questions on how this will impact you.
The university continues to monitor the situation in Manitoba. In addition, an advisory group is managing UWinnipeg's response and preparing for any potential cases. We will be working closely with public health officials and will follow their lead and direction.
Posters have been distributed in all campus buildings, including washrooms, to remind everyone to wash hands with soapy water.
Extra cleaning of residence space is taking place to ensure appropriate hygiene and safe spaces available.
In addition to established sanitation stations on campus, extra sanitation wipes have been distributed to high traffic areas. These specialized wipes meet provincial health and safety standards. If you require wipes in your area, contact UWinnipeg's Safety office at 204.786.9894. 
At this time, based on the information currently being provided, the risk of contracting COVID-19 is low.
If students, faculty, or staff suspect they have been exposed to the virus, what should they do?
In accordance with advice provided by Manitoba's provincial medical health officer, if you are returning from travel to affected areas:
Self-isolate

for a 14-day period

, even if you are not experiencing flu or common cold symptoms, such as coughing, sneezing, sore throat, fever or difficulty breathing.
Monitor yourself and those close to you for symptoms similar to the flu or common cold such as coughing, sneezing, sore throat, fever or difficulty breathing.

If symptoms develop during the 14-day self-isolation or self-monitoring period, contact

 Health Links by calling 204-788-8200 or toll-free 1-888-315-9257, or a medical doctor/health provider.
You may wish to access the Manitoba COVID-19 screening tool posted online by Shared Health Manitoba. 
Is it safe to receive a letter or package from an affected area?
Yes, it is safe. According to the World Health Organization (WHO), people receiving packages from areas affected are not at risk of contracting the COVID-19. From previous analysis, the WHO has determined that COVID-19 does not survive long on objects, such as letters or packages.
If I hear that a member of the UWinnipeg community is self-isolating, does that mean they have COVID-19?
No, that does not necessarily mean they have COVID-19. Community members who are self-isolating may simply be following the guidance of the provincial medical health officer after travelling, or they may be following standard infection control precautions as guided by their physician, for a completely separate medical issue.
Please maintain confidentiality if staff or students tell you they need to miss work due to COVID-19 or any other communicable illness.
It is important to remember that every member of our university community should be treated with respect and dignity. No person should be targeted in any way or subjected to discrimination resulting from a misplaced perception that they may be a carrier of a communicable disease based on their perceived disability, race, ancestry, place of origin or otherwise.