Faculty and staff FAQ
COVID-19 FAQ (Updated: December 10, 2020)
---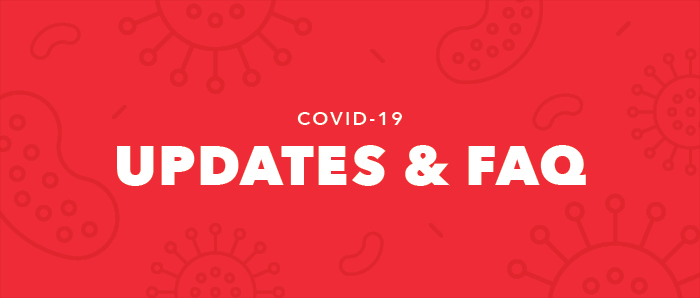 Working from home
Can I work from home?
Yes — we continue to encourage working from home if it can be done effectively. However, increased campus access for those who wish to use their offices or workspaces is gradually being phased in starting October 1, 2020. 
I am working from home, how do I access the technology I need to do my job?
Visit the Technology Sector website for links to resources available for faculty and staff working off-campus. 
The technology sector team continues to monitor campus needs and is responding as rapidly as possible. They are available from 8:30 am to 4:30 pm, Monday through Friday, and can be reached by email: servicedesk@uwinnipeg.ca, by phone: 204.786.9149, or via online request forms.  If you are phoning, please leave a voicemail.
If you would like a UWinnipeg-themed Zoom meeting background, a series of images are available for download on our Flickr page.
Working on-campus
Can I teach or conduct research on campus?
We have allowed a limited number of faculty and staff to return: those who cannot effectively complete their research, teaching, or support services remotely — and can also be safely accommodated on campus in line with advice from Manitoba Public Health.
To be considered for a return, complete the appropriate request form and submit it to their supervisor  (Dean / Director / Executive Director / Associate VP or Vice-president). 
With recent changes in public health guidance, the University has established a process to allow some activities to safely return to campus. However, the number of people and activities will remain limited to comply with public health guidance and reduce the risk of potential exposure to COVID-19. The campus changes will be prioritized, phased in, adapted, and carefully managed as we incrementally increase access.
Can I just go to my office on campus?
We  are gradually increasing campus access for those who wish to use their offices or workspaces, beginning in October 2020.
Faculty members will be permitted to resume on-campus office access from 8:00 am – 4:00 pm (Monday to Friday), as of Thursday, October 1.
Faculty members will not require formal authorization to access their office.
They must send an email, at least 24 hours in advance, indicating their office location and intended schedule to returntocampus@uwinnipeg.ca— so we can appropriately prepare in accordance with health and safety protocols.
Support staff may access their workspaces on campus, effective Thursday, October 15, as follows:
Staff require authorization from their managers to return.
A rationale for returning to campus must be provided.
To request authorization, complete this form and send it to your immediate supervisor.
Allow 5-7 business days to receive a response.
How do I request a return to campus for delivering an exam?
Please complete this form to request approval for administering an in-person exam on campus and send it to your Chair/Dean for approval. You will be notified if your request has been approved or denied.
What can I expect if I do return to campus?
Those who return to campus in October are expected to follow all COVID-19 safety protocols — including sign-in procedures and mask usage in all indicated areas. As well, the number of individuals on campus will be monitored to ensure that spacing requirements are met and that appropriate supports can be provided while we are operating at a reduced capacity.
Although you are returning, please remember that we are operating at a reduced capacity with limited available services — it will be like you are "working remotely" on campus. Moving freely throughout campus is discouraged and is limited to areas where activity has been pre-approved. 
See here for a detailed list of return-to-campus protocols.
Covid-19 exposure
What should I do if I think I've been exposed to, or have symptoms of COVID-19?
Contact your health care provider or Health Links at 204.788.8200 or toll-free 1.888. 315.9257, self-isolate at home, and contact your supervisor. Do not come to work. Please call or email your supervisor. Your supervisor will work with Human Resources to arrange your medical leave / sick time and discuss the return-to-work process.
Please review the Code Red Guidelines for UWinnipeg Employees for guidance on what to do if you are feeling unwell or are concerned about COVID-19 contact.
Please note the following definitions:
Close contact: Someone you have had contact with at 2 meters or less for more than 15 minutes.
Self-screen: Use Shared Health Screening Tool to determine public health requirements for self-isolation and the need for COVID testing.
Self-monitor: Pay attention to changes in your own health. Watch for sudden onset of symptoms, such as fever, coughing, shortness of breath, and/or loss of smell or taste
Self-isolate (quarantine): Remain at home, isolated from other household members. If a child or other person in your household that requires direct care is symptomatic, designate one caregiver to self-isolate within the household with them to provide care. Arrange to have food/groceries delivered.
Will employees in my department be notified if a colleague is in self-isolation?
Due to privacy considerations, the university would not identify the individual impacted.  You will be advised if the university has reason to believe that you may need to self-isolate.
Can sick leave be used if an employee is asked to self-isolate or is quarantined?
An employee can use available sick leave to cover their absence from work due to self-isolation or quarantine. Eligible employees can also use banked time, accrued vacation and/or Employment Insurance if required. An unpaid leave of absence is an additional option.
Health and wellness
News of COVID-19 is causing me anxiety. Where do I turn?
Along with many other stresses, COVID-19 has left many of us feeling disconnected. Connect Now is a new support line that allows you to connect instantly with a professional counsellor from our Employee Assistance Program (EAP). Access immediate support from a mental health professional, without needing to commit to on-going counselling sessions
The booklet, Mental health support through the coronavirus (COVID-19) pandemic provides mental health advice and insights based on the current pandemic. It is a great resource, created as part of UWinnipeg's Employee Assistance Program, which offers a range of resources to support your mental health and well-being.
The Anxiety Disorders Association of Manitoba (ADAM) has established an anxiety support line for anyone seeking support during this challenging time.  You can call their support line at 204.925.0040.  The line will be checked regularly between the hours of 9:00 am and 9:00 pm, Monday through Friday, and 10:00 am to 4:00 pm on weekends.  If you leave your name, phone number or email address, an ADAM representative will get in touch with you within a short period of time. Visit their website for more information. 
COVID-19 is causing anxiety for my students. Where can I direct them?
There are many UWinnipeg and community resources to which students can be referred. You can find the entire list of services and resources here.
How are you keeping the workplace safe?
Employees are encouraged to adhere to previously provided guidance found here as well as this set of COVID-19 health guidelines created by UWinnipeg's Safety Office. When preventative hygiene measures are diligently practiced, they are an effective means for minimizing the spread of the disease. In addition, employees should consult with their supervisor for specific protocols that may be in place for certain jobs.
What is the procedure if an employee becomes sick at work?
If a staff member or instructor becomes sick, follow this set of procedures, which was created for the University of Winnipeg in accordance with the Manitoba Public Health guidance for post-secondary.
What are my options if I have to care for a family member while working from home? 
Following consultation with your supervisor, provided that your job responsibilities are compatible with working from home, remote work may be considered. However, you may not be able to effectively work while at home due to caregiving responsibilities. If this is the case, you will be approved to use accrued vacation or banked time or to apply to purchase additional time off through the voluntary vacation purchase program.  
Operational changes
My work unit is being shut down, what will happen?
Human Resources will work with the dean/excluded director to review options relative to your employment circumstances.  Employees may still be required to report for work remotely. Work assignments will be determined based on operational need.
Human Resources Contact Information
Who do I contact regarding medical notes, accommodations, sick leave, or wellness inquiries?
Please contact Gina Schiak, Manager, Employee Development & Wellness at g.schiak@uwinnipeg.ca. She will respond to your inquiry during office hours, Monday to Friday, 8:30 am to 4:30 pm.
Who do I contact for employment verification? 
Please email HUMAN_RESOURCES@uwinnipeg.ca. A human resources staff member will respond to your inquiry during office hours, Monday to Friday, 8:30 am to 4:30 pm.
How do I submit human resource forms?
Human Resource forms can be scanned and sent electronically to: human_resources@uwinnipeg.ca. Forms that require your personal signature, or contain your Social Insurance Number, should be mailed to:
The University of Winnipeg 
Attention: Human Resources
515 Portage Avenue
Winnipeg, MB R3B 2E9
Who do I contact regarding human resource consulting?
Please contact your Human Resources consultant via email. If you are unsure who your HR Consultant is, visit Who is my HR contact?. 
Who do I contact regarding payroll, benefits, pension, and Records of Employment?
Please e-mail payroll@uwinnipeg.ca. You will receive a response during our office hours, Monday to Friday, 8:30 am to 4:30 pm.
Who do I contact if I have labour relations questions?
Please contact Kurt Brown  at k.brown@uwinnipeg.ca. You will receive a response to your inquiry during office hours, Monday to Friday, 8:30 am to 4:30 pm.
Who do I contact for position information, rates of pay, start and end dates, new hire setup, and submitting time through MyHR?
Please send your questions to hris@uwinnipeg.ca. A human resources staff member will contact you during our office hours, Monday to Friday, 8:30 am to 4:30 pm.
Who do I contact for assistance with job evaluations, position descriptions, or other compensation related information?
Please contact compensation@uwinnipeg.ca. A human resources staff member will respond to your inquiry during office hours, Monday to Friday, 8:30 am to 4:30 pm.
Who do I contact if I have a safety and health question?
For general safety and health questions, please contact the 24 hour Safety Line at  204.782.2588.
For specific questions, you may also contact the following individuals:
Kevin Smith, Manager, Safety and Health at 204.786.9894, 
Doug Brownridge, Occupational Safety Officer at 204.789.4191