Tim Ireland
Convocation
---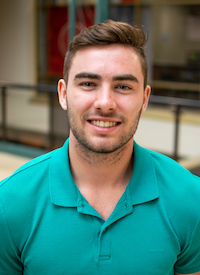 Tim Ireland, BSc
Valedictorian
A former Wesmen basketball player and active member of the campus community, Tim Ireland is looking forward to what the future holds — for himself and his classmates.
"The world needs people who will do what they love and make an impact. Seek out environments that you're valued in because I see so much worth in every student I've come across," said Ireland when asked for his message to fellow graduates.
He is graduating from The University of Winnipeg with a BSc in kinesiology and a major in exercise science. Ireland is headed to the University of Alberta later this year to pursue a Master's of Science in Physical Therapy with a goal of working in the field of neural rehabilitation. He hopes to improve the quality of life for those living with chronic neurological diseases and damage, such as multiple sclerosis, concussions, and spinal injuries.
Ireland says the small class sizes at UWinnipeg enabled him to form close relationships with kinesiology and applied health faculty members, including Gerren McDonald and Dr. Danielle Defries. One of the highlights of his undergrad was working with Defries on her research into gestational diabetes — an experience that allowed him to apply what he had learned in the classroom in the real world.
Beyond his studies, Ireland helped out with organizing TEDx University of Winnipeg events and participated in the Duckworth Great Rock Climb, where his team placed third three years in a row.
He has received numerous awards and scholarships, including being named Academic All-Canadian University of Winnipeg Men's CIS Basketball in 2015 and making the UWinnipeg Dean's Honour List as a Student of Highest Distinction.
Ireland is also the Crohns and Colitis Canada National Youth Engagement Lead and has volunteered as a coach with the Special Olympics East Kildonan Sharks Swim Team.