Daniel Russell
Convocation
---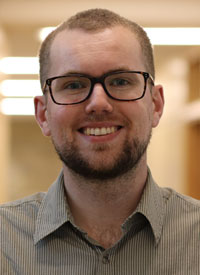 Daniel Russell, BA (Hons)
Valedictorian
Anyone who's met Daniel Russell knows he loves Greco-Roman history.
After initially starting his studies with the Department of History, Russell shifted his focus to the Department of Classics to study Greek and Roman culture, society, literature, and history. Now he's graduating from The University of Winnipeg with a Bachelor of Arts (Honours) degree in Classics (Language Stream).
Russell has earned a number of accolades along the way, including winning the Classical Association of Canada's Junior Greek Sight Translation Competition in 2016, which tasks students with translating unseen passages without the aid of a dictionary or grammar, and within a set period of time.
He also worked as a research assistant to classics professor Dr. Conor Whatley.
As he moves on from UWinnipeg, Russell said he's going to really miss the community-like atmosphere on campus.
"I love the small size of the campus and classrooms. It's very intimate," he said. "You always see the same people and everyone knows each other. It's a tightknit community."
Equipped with a UWinnipeg education in hand, Russell and his fiancée are moving to Ottawa in 2019 where he'll pursue a master's program in the Ontario Network for the Study of Late Antiquity, based in the
Department of Classics and Religious Studies at the University of Ottawa. From there, he wants to obtain his PhD and work in academia.
For his fellow graduates, Russell leaves this piece of advice: "Never stop being a student and always approach life with a fresh perspective."