Dr. Jaqueline McLeod Rogers
CLASS
---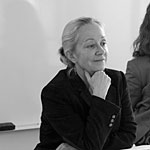 Title: Professor, Rhetoric, Writing and Communications
Email: j.mcleod-rogers@uwinnipeg.ca
Biography:

Research Interests
Dr. Jaqueline McLeod Rogers is a feminist scholar with a long-term commitment to developing and promoting writing- and language-based education courses responsive to cultural diversity. At UWinnipeg, she currently teaches a writing course in the Transition- Year Program, an access-based program to welcome non-traditional, mainly aboriginal, students to studying at the university. Her upper-level rhetoric course, "Composing Winnipeg: Rhetorics of/and the City," deals with themes central to the interests of the Institute: diversity, mobilities, and the tenacity of a localized "sense of place" that thrives at the same time as it adjusts to the global flow of people and things.
Her central research interest is in urban rhetorics, which aims at developing the language of relationship and revealing complex relational networks—revealing the writing self in social and material contexts, amidst a spinning web of relational ties. Her interest in language, identity, and community informs all of her mostly collaborative research projects, such as studies that take up questions about how digital media affects our scholarly and cultural practices; an editing project that links McLuhan to contemporary communications theory and practice; a study of local responses to the CMHR; and an alliance-biulding project to support women transitioning from prison.
She is enjoying the rich research potential of involvement with CLASS.
Here is a video of Dr. McLeod Rogers appearing on CTV to discuss top newsmakers:
http://winnipeg.ctvnews.ca/video?clipId=
Publications:


Recent Publications Related to Culture, Language and Diversity
Peer-Reviewed Journal Articles
McLeod Rogers, J. "Geo-Politics in the Anti-Suffrage Cartoons of American John Tinney McCutcheon and Canadian Newton McConnell: Stopping Trans-Atlantic Flow." Peitho, Fall/winter 2014. 17.1: 31-45.
McLeod Rogers, J. and J. Harris. "Complex Alliances: A Community- and Institute- based Project for Educating Justice-involved Women." Annual Review of Interdisciplinary Justice Research. Volume 4. Fall 2014: 211-33.
Mcleod Rogers, J. and J. Harris. "Who's Your Community?: Partnering to Build a Social Co-op for Aboriginal Women Transitioning from Prison" Journal of Co-operative Studies.47.1 Summer 2014: 25-38.
McLeod Rogers, Jaqueline. "Make Room for the Internet: Moms and Teen Daughters" in Harlot: a Revealing Look at the Arts of Persuasion: Special Issue: Technology and the Family. No. 6 (2011) Online. 18 pp. http://harlotofthearts.org/index.php/harlot/issue/current
McLeod Rogers, Jaqueline. "Border Stoppings and Crossings: Teaching Writing in
Winnipeg, Manitoba, Canada." Writing on the Edge. Special Edition: Teaching Writing around the World, Christopher Thais, guest ed. (UC: Davis) 21.1 (Fall 2010): 37-48.
McLeod [Rogers], Jaqueline. "Margaret Mead's Coming of Age in Ethnography," Ethnologies 32.1 (2010): 197-216.
Peer-Reviewed Book Chapters
McLeod-Rogers, J. "Local Flaneury: Losing and Finding One's Place." Environmental Rhetoric: Ecologies of Place. Peter N. Goggin ed. New York: Routledge/Taylor and Francis, 2013, 50-75.
McLeod Rogers, J. "Old[er] Women Writing Teachers Learning New[er] Technologies: Teaching and Trusting." In Web 2.0.Applications for First year Composition Assignments. Claire Lutkewitte, ed. Texas: Fountainhead Press, 2012. Chapter 2, 9-26.
McLeod Rogers, Jaqueline. "Helping Students to Make Sense with The Sunflower Narrative: Experience and Memory, Change and Truth," Revisiting the Past through Rhetorics of Memory and Amnesia. Dale Sullivan, Russell Hirst and Bruce Maylath eds. Newcastle: Cambridge Scholars Press, November 2010: 133-144.
Peer-reviewed Forthcoming Edited Collection of New Articles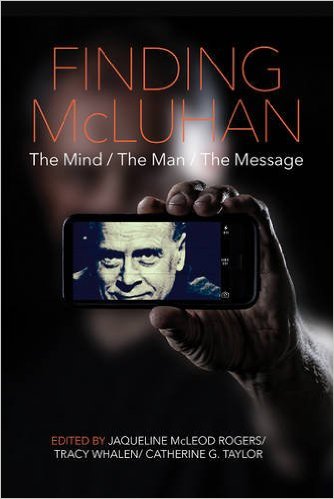 McLeod Rogers, J., T. Whalen and C. Taylor. "Finding McLuhan : The Mind, the Man, the Message." For May/June 2015, U of Regina Press
Dr. McLeod Rogers' Contributions
"Introduction" co-written with T. Whalen: "Transformations and Adaptations." ix-xiii.
Sole authored chapters:
McLeod Rogers, J. "McLuhan and the City." 144-63.
McLeod Rogers J. "Conducting the Interviews: Legacy Memory/Imagination" 254-57:
"Michael McLuhan: Protecting the Legacy," 258-70.
"Eric McLuhan: Living the Legacy," 271-79.
"Douglas Coupland: Writing McLuhan," 280-87.