Jane Goodall Axworthy Lecture
CLASS
---
---
---
Dr. Jane Goodall's Axworthy Lecture took place on September 11th at 7:00 p.m. in the David F. Anderson gym. She delivered her powerful address to a packed house of 2500. 
Her lecture was broadcast as an episode of IDEAS on the CBC. It can be accessed here. Video of the event is available below.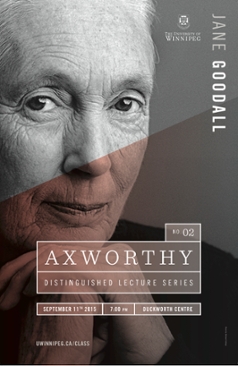 Dr. Goodall's lecture took place in conjunction with CLASS' Fall Institute "Animality, Humanity, Secularity", a special 3-credit hour course on ecology in a secular world. 
BIO
Renowned primatologist, Dr. Jane Goodall's work at the Gombe Stream Chimpanzee Reserve became the foundation of contemporary primatological research, effectively redefining the relationship between humans and animals. In 1977, Dr. Goodall established the Jane Goodall Institute (JGI), which supports programs for research, education, community development, and conservation.
Dr. Goodall is a passionate spokesperson for animals and the environment. In 2002, she was appointed a UN Messenger of Peace by Kofi Annan. Her many honors include the Medal of Tanzania, the National Geographic Society's Hubbard Medal, Japan's prestigious Kyoto Prize, the Gandhi/King Award for Nonviolence, the Franklin Institute's Benjamin Franklin Medal in Life and Science, and Spain's coveted Prince of Asturias Award. In February 2004, she was awarded England's highest honor, Dame of the British Empire.
---
All rights reserved.