Calgary Mayor Naheed Nenshi Axworthy Lecture
CLASS
---
---
Calgary Mayor Naheed Nenshi was the third speaker in the Axworthy Distinguished Lecture Series on Social Justice and the Public Good. His lecture, entitled "Looking after Our Own", addressed public discourse, diversity, and the future of cities. It took place on May 31st, 2016 and was delivered to over 700 people.
Mayor Naheed Nenshi is currently serving his second term as Calgary's mayor, and last year was awarded the World Mayor Prize.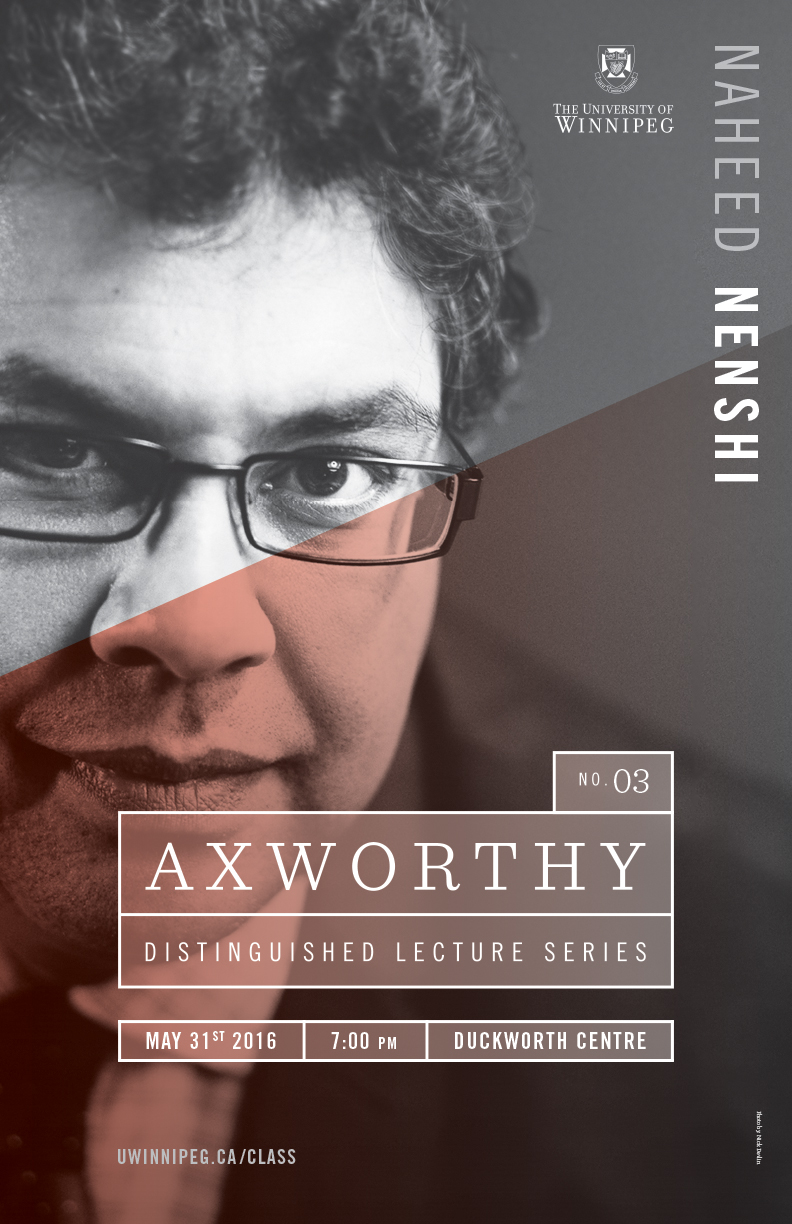 The Axworthy Distinguished Lecture Series on Social Justice and the Public Good was established in 2015 to honour Dr. Lloyd Axworthy, President of the University of Winnipeg from 2004-14. In recognition of Dr. Axworthy's commitment to the public good, to social justice, and to accessibility, the series invites front-ranking researchers, social commentators and political leaders to the University of Winnipeg to deliver free lectures on social justice issues involving gender, religion and secularism, language, ethnicity and race, ecology, and economy.
The first lecture in the series was delivered by distinguished public intellectual Dr. Cornel West in May 2015, with renowned primatologist Dr. Jane Goodall offering the second lecture in September 2015.
The Axworthy Lectures coincide with Institutes delivered by the Centre for the Liberal Arts and Secular Society (CLASS)—a network of University of Winnipeg faculty members and students engaged in interdisciplinary research concerning secularism and secularization from perspectives across the liberal arts. The spring 2016 institute, entitled "The Secular, the Religious and the Public: Winnipeg's Inter-civilizational Spaces", will by taught by Dr. Ray Silvius and features numerous public lectures (including Mayor Nenshi's Axworthy Lecture).
To support the Axworthy Distinguished Lecture Series, please consider making a tax-deductible donation through the University of Winnipeg Foundation at http://foundation.uwinnipeg.ca/
For inquiries about the Axworthy Lecture Series, please contact Dr. Carlos Colorado at c.colorado@uwinnipeg.ca or visit the series website at http://www.uwinnipeg.ca/class/axworthy-lecture-series.html.
SHORT BIO 
Mayor Naheed Nenshi is currently serving his second term and is Calgary's 36th mayor. 
During his first term in office, Mayor Nenshi's leadership resulted in many positive changes in Calgary to build better communities, keep Calgarians moving, and transform government to reinforce a culture of constant citizen-focused improvement at The City of Calgary. In February 2015, he was awarded the World Mayor Prize.
Prior to becoming mayor, he was Canada's first tenured professor in the field of nonprofit management at Mount Royal University's Bissett School of Business and a trusted business advisor to corporate leaders in Canada and the USA.
His real passion is to make cities, especially Calgary, work better. He's the lead author of Building Up: Making Canada's Cities Magnets for Talent and Engines of Development and has long put his ideas to work in Calgary.
Mayor Nenshi grew up in Calgary and has lived and worked in cities around the world before returning home. He holds a Bachelor of Commerce Degree (with distinction) from the University of Calgary and a Master in Public Policy from the John F. Kennedy School of Government at Harvard University, where he studied as a Kennedy Fellow. 
UWinnipeg is noted for academic excellence, Indigenous scholarship, environmental commitment, small class sizes and campus diversity. UWinnipeg is committed to improving access to post-secondary education for all individuals, especially those from non-traditional communities. Find out more at uwinnipeg.ca. Follow us on Twitter, and Facebook.