The Inaugural 2015 Axworthy Lecturer: Dr. Cornel West
CLASS: Researching the Liberal Arts and Secular Society
---
---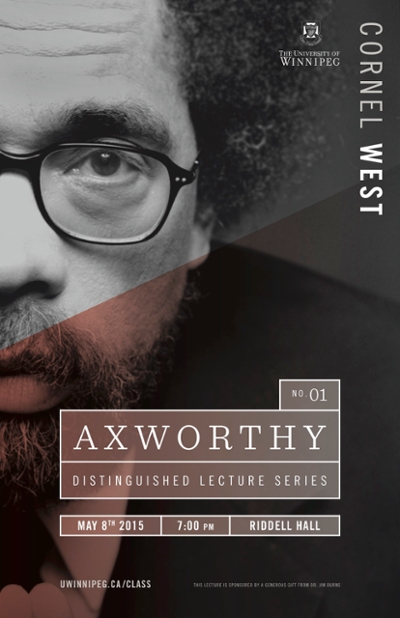 Dr. West's Axworthy Lecture took place on May 8th at 7:00 p.m. in Riddell Hall.
The Inaugural Axworthy Lecture
The inaugural Axworthy Lecture delivered by Dr. Cornel West on May 8th was a great success! UWinnipeg's Riddell Hall and Eckhardt-Gramatte Halls were both packed to capacity. Check out the Axworthy Lecture Series Event Facebook page for some of the glowing testimonials about this memorable event. Event video can be found below.
In addition to reaching local stakeholders, the lecture was recorded by the CBC and broadcast as an episode of the popular program, IDEAS. This national program reaches a weekly audience of over a million listeners. The broadcast, entitled "Brother West", can be acessed here!
Thank you to the donors who made the inaugural lecture possible in this accessible format, particularly Dr. Jim Burns, sponsor of the inaugural lecture. Please contact the University of Winnipeg Foundation to find out about opportunities available to support the Axworthy Lecture Series.
BIO
Dr. Cornel West is a prominent and provocative democratic intellectual and civil rights activist. He is the Class of 1943 University Professor at Princeton University and has taught at Union Theological Seminary, Yale, Harvard and the University of Paris. He has written 19 and edited 13 books. West is best known for his classic Race Matters, Democracy Matters, and his  memoir, Brother West: Living and Loving Out Loud.
He appears frequently on Real Time with Bill Maher, The Colbert Report, CNN, C-Span, and PBS. He can be heard weekly with Tavis Smiley on "Smiley & West", the national public radio program distributed by Public Radio International. Along with Smiley, Dr. West participates in the "Poverty Tour", traveling across the U.S to libraries, non-profits and corporations, and colleges and universities, and religious institutions, to discuss why now is the time to make poverty a priority in America.
He has appeared in over 25 films (including The Matrix Reloaded and The Matrix Revolutions) and documentaries (including Examined Life, Call & Response, Sidewalk and Stand). He has made three spoken word albums including Never Forget, collaborating with Prince, Jill Scott, Andre 3000, Talib Kweli, KRS-One and the late Gerald Levert. In short, West has a passion to communicate to a vast variety of publics in order to keep alive the legacy of Martin Luther King, Jr. – a legacy of telling the truth and bearing witness to love, civil rights and social justice.
---
All rights reserved.