Dr. Haixia Zhang
Chemistry
---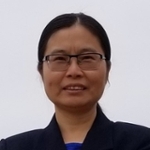 Title: Assistant Professor
Office: 2RC017 - Lab: 3RC033
Building: Richardson College for the Environment and Science Complex
Phone: 204.789-4236
Email: h.zhang@uwinnipeg.ca
Degrees:

Ph.D. (Chemistry) The University of Western Ontario (UWO), 2006
M.Sc. (Chemistry) The University of Science & Technology of China (USTC), 2002
B.Sc. (Chemistry) Liaocheng University (LU), 1997
Biography:

Dr. Zhang's career focusses on the application of mass spectrometry to explore and solve problems related to plant and human biology. Her research expertise include proteomics, and the identification and quantification of small molecules and lipids. She has led and collaborated on multiple research projects, and also conducted fee-for-service research while working at NRC-Saskatoon. Some of her major projects include:
Targeted metabolomics method development/validation and quantification of nutritional or anti-nutritional compounds from pulse seeds or tissues, by ultra-pressure liquid chromatography-electrospray ionization mass spectrometry (UPLC-ESI MS). Examples include B vitamins, vicine/convicine and plant hormones.
Oilseed triacylglycerol profiling and characterization by matrix-assisted laser desorption/ionization mass spectrometry (MALDI-MS), to help discover new fatty acids and unusual lipids from plants or fungi for potential nutritional or industrial use.
Protein biomarker discovery from human cancer cells or tissues to assist early diagnosis, and more recently virus protein identification from infected honeybees using global proteomics by nanoflow LC-ESI MS.
Courses:

CHEM 2302/3 Quantitative Chemical Analysis
CHEM 3601/3 Environmental Chemistry
CHEM 4302/3 Instrumentation for Quantitative Analysis
Research Interests:

Analytical Chemistry Research Area
Dr. Zhang's research interest is to develop innovative separation and characterization approaches, mainly based on high performance liquid chromatography-electrospray ionization mass spectrometry (HPLC-ESI MS), to characterize nutritional, antinutritional or nutraceutical compounds from Canadian prairie crops or their food products.  These compounds could be small organic molecules, lipids, peptides or proteins.  Once the workflows are established, they could be applied to a broad range of sample analysis, such as agricultural, environmental, or clinical samples. Projects include workflow development and characterization of fat-soluble vitamins (A, D, E) from prairie crops (legumes, sunflower, corn, oilseeds), and their concentration changes during storage and food processing (germination, boiling, cooking, roasting).
Biochemistry Research Area
Lipids are a group of hydrophobic (fat-soluble) molecules which are essential components of all forms of life.  Their functions include cell membrane structure, energy storage, cell signaling and other biological processes.   An untargeted lipid profiling platform based on LC-MS technique will be established to investigate honeybee lipid profile change during virus infection, and to look for potential biomarkers involved in virus-defense mechanisms (collaboration with Dr. Vanderwel).  Beyond this, metabolite profiling workflows will be established to look for molecular biomarkers associated with tolerance to (a)biotic stresses in prairie crops, to assist with breeding of improved varieties.
Publications:

Recent Publications (Since 2012):
Zhang H*, De Silva D, Dissanayaka D, Warkentin TD, & Vandenberg A. 2021. Validated B vitamin quantification from lentils by selected reaction monitoring mass spectrometry. Food Chemistry, 359, 129810.
MarshallJ, ZhangH*, KhazaeiH, MikitukK, & VandenbergA. 2021.Targeted quantification of B vitamins infaba bean seedsusing ultra-performance liquid chromatography-selected reaction monitoring mass spectrometry. Journal of Food Composition and Analysis,95,103687. 
Jha AB, GaliKK, Zhang H, Purves RW, Tar'an B, Vandenberg A, & Warkentin TD. 2020.Genome wideassociation study to identify SNPs associated with folate profile in pea. Euphytica, 216, 18. 
Jha AB, Purves RW, Elessawy FM, Zhang H, Vandenberg A, Thomas D. Warkentin TD.2019.Polyphenolic profile of seed components of white and purple flower pealines. Crop Science, 59:2711-2719. 
Zhang H*, Jha AB, De Silva D, Purves RW, Warkentin TD, Vandenberg A. 2019.Improved folate monoglutamate extraction and applicationto folate quantification from wild lentil seeds by ultra-performance liquid chromatography-selective reaction monitoring mass spectrometry. Journal of Chromatography B,1121:39-47. 
Smith MA, Zhang H, Burton IW, Liu C, Cheng AW, Sun JY. 2018. 2-acetyl-1,3-diacyl-sn-glycerols with unusual acyl composition in seed oils of the genus European Journal of Lipid Science and Technology, 120, 1800069. 
ZhangH*, JhaAB, WarkentinTD, VandenbergA, PurvesRW.2018.Folate stability and method optimization for folate extraction from seeds of pulse crops using LC-SRM MS, Journal of Food Composition and Analysis. 71: 44-55. 
Smith MA, Zhang H. 2018. Very-long-chain fatty acid diversity in nine Heliophila seed oils, South African Journal of Botany, 117: 50-56. 
VidovicS,MedihalaP, DynesJJ, DaidaP, VujanovicV, LawrenceJR, HitchcockAP,ShettyD, ZhangH, BrownDR and KorberDR.2018.Importance of the RpoE regulon in maintaining the lipid bilayer and reducing porin-mediated permeability during antimicrobial treatment with the polycationic agent, Proteomics.18(3-4), 1700285. 
Purves RW, Zhang H, Khazaei H, and Vandenberg A. 2017. Rapid analysis of medically relevant compounds in faba bean seeds using FAIMS and mass spectrometry. International Journal for Ion Mobility Spectrometry. 20(3), 125-135. 
de Costa F, Barber C, Kim Y, Reed D, Zhang H, Fett-Neto A, Covello P. 2017. Molecular cloning of an ester-forming triterpenoid: UDP-glucose 28-O-glucosyltransferase involved in saponin biosynthesis from the medicinal plant Centella asiatica. Plant Science.  262: 9-17. 
Chitanda J, Zhang H, PahlE, Purves RWand El-Aneed A.2016.The development of novel nanodiamond based MALDI matrices for the analysis of small organic pharmaceuticals. Journal of the American Society for Mass Spectrometry.27:1686-1693. 
Smith MA, Zhang H.2016. Apocynaceae seed lipids: characterization of oil from Nerium oleanderand Adenum obesum, two species that accumulate isoricinoleic acid.  JAOCS.  93:105-114. 
Taylor WG, Sutherland DH, RichardsKWand Zhang H*.2015.Oleanane saponins of caragana arborescens and quantitative determination. Industrial Crops and Products.  77:74-80. 
JhaAB, AshokkumarK, DiapariM, AmbroseSJ, Zhang H, Tar'anB, BettKE, VandenbergA, WarkentinTD, and Purves RW. 2015. Genetic diversity of folate profiles in seeds of common bean, lentil, chickpea and pea. Journal of Food Composition and Analysis.  42:134-140. 
VidovicS, ElderJ, MedihalaP, LawrenceJR, PredicalaB, Zhang Hand KorberDR. 2015.ZnO nanoparticles impose a pan-metabolic toxic effect along with strong necrosis-inducing activation of the envelope stress response in Salmonella enterica serovar Enteriditis. AntimicrobialAgents and Chemotherapy59:3317-3328. 
Taylor WG,Sutherland DH, Zhang Hand HegedusDD. 2015. Sequence Determination by MALDI-TOF Mass Spectrometry of an Insecticidal Lentil Peptide of the PA1b Type.  Phytochemistry Letters.  12:105-112. 
Buse J, Purves RW, VerrallRE, BadeaI, Zhang H, MulliganCC, PeruKM, BaileyJ, HeadleyJV,El-Aneed A.2014.The Development and Assessment of high-throughput mass spectrometry-based methods for the quantification of a nanoparticle drug delivery agent in cellular lysate. Journal of Mass Spectrometry.49:1171-1180. 
Smith MA, Zhang Hand Purves RW.2014. Identification and distribution of oxygenated fatty acids in Plantagoseed lipids.JAOCS.  91:1313-1322. 
SunJY, HammerlindlJ, ForseilleL, ZhangHand SmithMA.2014. Simultaneous over-expressing of an acyl-ACP thioesterase (FatB) and silencing of acyl-acyl carrier protein desaturase (SAD) by artificial microRNAs increases saturated fatty acid levels in Brassica napus Plant Biotechnology Journal.  12:624-637.  
ZhangH, SmithMA, Purves RW.2014. Optimization for triacylglycerol-estolide analysis by matrix-assisted laser desorption/ionization-mass spectrometry. 91:905-915. 
BarberCJS, PujaraP, ReedDW, ChiwochaS, ZhangHand CovelloPS, 2013. The two-step biosynthesis ofcyclic peptide from linear precursors in a memberof the plant family caryophyllaceaeinvolves cyclization by a serine protease-like enzyme.  JBC.  288:12500-12510. 
Shivhare A, Ambrose SJ, Zhang H, Purves RW, and Scott RWJ. 2013. Stable and recyclable Au25clusters for the reduction of 4-nitrophenol. Chem Commun.  49:276-278. 
Smith MA, Zhang H, Forseille L, and Purves RW. 2013. Characterization of novel triacylglycerol-estolides from the seed oil of Mallotus philippensisand Trewia nudiflora.  Lipids.  48:75-85.  
LeA, LaneAN, HamakerM, BoseS, GouwA, BarbiJ, TsukamotoT, RojasCJ,SlusherBS, Zhang H,ZimmermanLJ, LieblerDC, SlebosRJC, LorkiewiczPK, HigashiRM, FanTWMand DangCV.2012. Glucose-independent glutamine metabolism via TCA cyclingfor proliferation and survival in human B lymphocytes.CellMetabolism,15:110-121.This paper is featured in Cell (vol 148, 2012) in the leading edge issue. 
Zhang H, Olson DJH, Van D, and Smith MA. 2012. Rapid identification of triacylglycerol-estolides in plant and fungal oils.  Industrial crops and Products, 37:186-194.