Dr. Athar Ata
Chemistry
---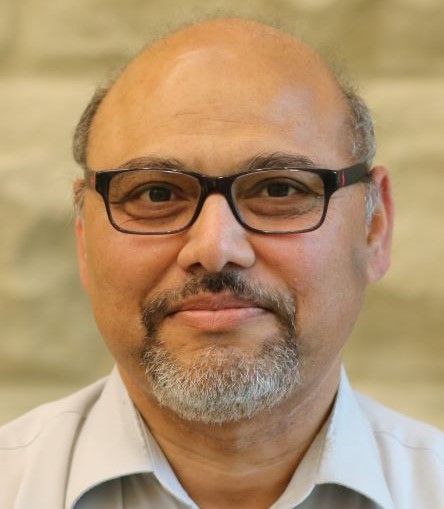 Title: Chair and Professor - Admin Leave July 1, 2021 - June 30, 2022
Office: 2RC009 - Lab: 3RC017
Building: Richardson College for the Environment and Science Complex
Phone: 204.786.9389
Email: a.ata@uwinnipeg.ca
Degrees:

Postdoc  Florida Atlantic University, Florida 1998-2001
Postdoc  H.E.J. Research Institute of Chemistry, University of Karachi, 1996-1998
Ph.D.  (Chemistry), University of Karachi, 1996
Biography:

Dr. Athar Ata is a Chemistry Professor and the Chair of the Department of Chemistry at The University of Winnipeg. Dr. Ata graduated from the University of Agriculture Faisalabad with a Master of Science degree in 1989 and the University of Karachi with a PhD in Chemistry in 1995. He was honoured with receiving the Clifford J. Robson Memorial Award for Excellence in Teaching. He enjoys contributing to scientific literature and is a fundraising advocate for the Canadian Diabetes Association. He was elected to the Board in 2019 and sits on The University of Winnipeg Senate.
Courses:

CHEM 1112/3 Basic Chemical Reactivity
CHEM 2201/6 Organic Chemistry
CHEM 2202/3 Organic Chemistry I
CHEM 2203/3 Organic Chemistry II
CHEM 3202/3 Organic Reaction Mechanisms
CHEM 3204/3 Organic Structure Determination
CHEM 3205/3 Organic Synthesis
CHEM 3302/3 Methods of Chemical Analysis
CHEM 3401/3 Inorganic Chemistry II
CHEM 3503/3 Intermediate Biochemistry II
CHEM 3701/3 Directed Studies Chemistry
CHEM 4204/3 Medical Chemistry
CHEM 4701/6 Research Projects in Chemistry
Research Interests:

Dr. Athar Ata's main research interests are the isolation of new pharmaceutical agents from marine organisms, microorganisms and traditional medicinal plants, as well as the biosynthesis of natural products and microbial transformations of bioactive natural products.
Publications:

Selected Publications
1. A. Ata, L. J. Conci, J. Bettriidge, I. Orhan and B. Sener, Novel Microbial Transformations of Sclareolide, Chem. and Pharm. Bull , 55, 118, 2007.
2. K. S. Kosmulalage, S. Zahid, C. C. Udenigwe, S.Akhtar, A. Ata and R. Samarasekera, Glutathione S-Transferase, Acetylcholinesterase Inhibitory and Antibacterial Activities of Chemical Constituents of Barleria Prionitis, Z. Naturforsch B, 62b, 580, 2007.
3. S. Zahid, A. Ata and R. Samarasekera, New Triterpenoids from Artocaprus nobilis, Z. Naturforsch B, 62b, 280, 2007.
4. C.C. Udenigwe, A. Ata and R. Samarasekera, Glutathione S-Transferase Inhibiting Chemical Constituents ofCaesalpinia bonduc, Chem. Pharm. Bull., 55, 442, 2007.
5. S. Zahid, C. C. Udenigwe, A. Ata, M. O. Eze, E. P. Segstro and P. Holloway, New Bioactive Chemical Constituents of Coprnus micaceus, Nat. Prod. Res., 20, 1283, 2006.
6. M. H. Meshkatalsadat, A. Mollataghi and A. Ata, New Triterpenoidal Alkaloids from Buxus hyrcana, Z. Naturforsch, 61b, 201, 2006.