Students with Disabilities
Awards and Financial Aid
---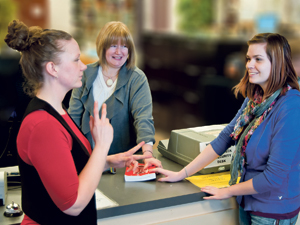 The University of Winnipeg is dedicated to ensuring that all students have equal access to higher learning. As a result of this mandate there are support services and programs in place like financial assistance to make that happen.
Unless otherwise stated, all full-time and part-time students are eligible for the Entrance and In-Course awards as long as they meet the published criteria. In addition to these programs, there are also some specific opportunities available just for students with disabilities that we would like to highlight for you. Please read our Additional Assistance for Students with Disabilities poster [PDF].
In addition to the financial assistance offered at the University, please review our Government Student Aid page for information on government student loans, grants and bursaries. In addition to loans, did you know there are grants for Persons with Permanent Disabilities?

How to Apply for Financial Assistance
Applying for awards at The University of Winnipeg is easy! Visit our webpage for In-Course Awards.

Thinking of Coming to The University of Winnipeg?
If you have just applied for admission to the University, or you are thinking of coming in the near future, please visit our Entrance Awards page for more information on assistance for first year students.

Other Services and Support Programs
For more information visit Accessibility Services or contact 204-779-UWIN.