Indigenous Students
Awards and Financial Aid
---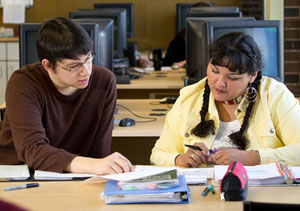 Winnipeg has one of the fastest growing urban Indigenous populations in Canada. The University of Winnipeg proudly reflects this reality. We are one of the top four universities in the country for Indigenous participation, and more than 12% of our student body self-identify as First Nations, Métis, and Inuit. The University of Winnipeg is dedicated to ensuring that all students have equal access to higher learning, and as a result has numerous financial assistance programs to ensure that happens.
Unless otherwise stated, all full-time and part-time students are eligible for Entrance and In-Course awards as long as they meet the published criteria. In addition to these programs, there are also some specific opportunities available just for indigenous students that we would like to highlight for you. Updated Indigenous Student Funding Poster coming soon.
In addition to the financial assistance offered at the University, please review our Government Student Aid page for information on government student loans, grants and bursaries. In addition to loans, did you know there are bursaries for students from northern and rural Manitoba?

How to Apply for Financial Assistance
Applying for awards at The University of Winnipeg is easy! Fill out the In-Course Award applications. There will be a section on the applications to self-declare as an Indigenous student.

Thinking of Coming to The University of Winnipeg?
If you have just applied for admission to the University, or you are thinking of coming in the near future, please visit our Entrance Awards page for more information on assistance for first year students.
Manitoba Citizens' Bursary Fund for Aboriginal Peoples
Aboriginal Education Awards
Considering continuing on to complete a PhD program?
Indigenous University of Winnipeg alumnus/alumna who are entering a PhD program should consider applying for the Weweni Future Scholars Award. Interested students can check out the Graduate Studies Funding page for more information. The deadline is September 15th annually. 
Other Services and Support Programs
For more information visit the Aboriginal Student Services Centre, or contact 204-779-UWIN.