Dr. Kevin Walby
Faculty of Arts
---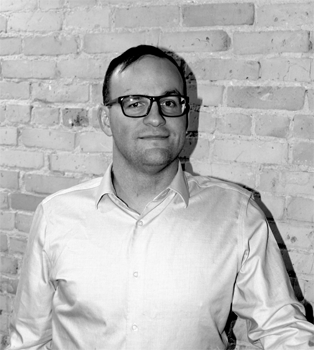 You may have seen this next featured researcher biking around our city in a bright orange snowmobile suit. Dr. Kevin Walby is Associate Professor and Chancellor's Research Chair in the Department of Criminal Justice at University of Winnipeg. Prior to joining UW in 2013, Walby was a SSHRC Post-Doctoral Fellow at the University of Toronto, Centre of Criminology. Walby's research spans criminal justice studies, criminology, and socio-legal studies.
According to Glenn Moulaison, Dean of Arts, "It's difficult not to notice Kevin, and not only because of the bright orange snowmobile suit. He has quickly proven himself to be a stellar researcher, as well as a dedicated teacher, mentor and colleague."
Commenting on his research, Steven Kohm, Department Chair, notes that the Department of Criminal Justice is "extremely fortunate to have a scholar of Kevin's stature." Steven notes that "Kevin's remarkable body of published work spans a broad range of topics in interdisciplinary criminology and criminal justice studies. Kevin's extensive research and publication record brings international attention to The University of Winnipeg and provides students in Criminal Justice with the opportunity to learn from one of the top experts in the field."  
Dr. Kevin Walby

Dr. Kevin Walby's primary area of research is focused on policing, security, and surveillance. With R.K. Lippert at University of Windsor, Walby is co-editor of Policing Cities: Urban Securitization and Regulation in a 21st Century World (Routledge, 2013) and Corporate Security in the 21st Century: Theory and Practice in International Perspective (Palgrave, 2014). Walby is co-author of Municipal Corporate Security in International Context (Routledge, 2015). Articles on policing, security, and surveillance appear in journals including British Journal of Criminology, Security Dialogue, as well as Law & Social Inquiry. Walby and Lippert are now co-editing a collection on national security.
Walby also conducts research on representations of justice, in two ways. The first component examines the 21st-century resurgence of biological theories of crime. One article appearing in Criminology & Criminal Justice became the topic of debate in the Journal of Theoretical and Philosophical Criminology. The second component examines representations of punishment. With J. Piché at University of Ottawa, he is working on the project "Penal Tourism and Popular Cultures of Punishment in Canada". Walby's articles in the British Journal of Criminology, Critical Criminology, and Punishment & Society focus on penal museums and tours. See: http://www.carceralcultures.ca
Walby also conducts research on Canadian access to information (ATI) and freedom of information (FOI) legislation. He has edited a volume on ATI/FOI law entitled Brokering Access: Power, Politics and Freedom of Information Process in Canada (University of British Columbia Press, 2012). He has co-edited Access to Information and Social Justice: Critical Research Strategies for Journalists, Scholars, and Activists (Arbeiter Ring Publishing (ARP) Books, 2015).
Walby is also author of Touching Encounters: Sex, Work, and Male-for-Male Internet Escorting (University of Chicago Press, 2012). Drawing on interviews with male escorts from Montréal, Toronto, Ottawa, New York (USA) and London (UK), Touching Encounters explores male escort relationships with clients. Findings also appear in Qualitative Research.
Finally, Walby has a keen interest in urban studies. He has published in Urban Studies as well as in the International Journal of Urban and Regional Research. His project "Collective Trauma and Municipal Policymaking in Post-Industrial War Towns" examines what happens to purpose-built towns when industries withdraw. Findings are forthcoming in Cultural Studies.
The Social Sciences and Humanities Research Council of Canada (SSHRC), the Canadian Institutes of Health Research (CIHR), and the Office of the Privacy Commissioner of Canada (OPC) have funded these research projects.
Walby is also co-managing editor of the peer reviewed Journal of Prisoners on Prisons (JPP), published by University of Ottawa Press. See: http://www.jpp.org
Naniece Ibrahim in Marketing and Communications recently did a feature, Research in Carceral Cultures, on a research initiative with Dr. Walby is undertaking with Justin Piché at the University of Ottawa.