Dr. Janis Thiessen
Faculty of Arts
---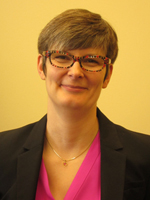 Dr. Janis Thiessen has quickly established herself since accepting a position in the Department of History in 2011. She has published "Manufacturing Mennonites: Work and Religion in Post-War Manitoba" (University of Toronto Press, 2013), organized two food history symposia at the University, and received a faculty award for her teaching (2014). She also edits a national journal. Indeed, as Dr. Glenn Moulaison, Dean of Arts, states, "The remarkable thing about Dr. Thiessen is not that she is excellent at what she does, but that she is excellent at doing so many different things. We are truly fortunate that she chose to work here."
Dr. Janis Thiessen received her B.Sc. (1992) and B.Ed. (1994) from the University of Manitoba. She began a fifteen-year career teaching high school while simultaneously completing an M.A. in History at the University of Manitoba (1997). In 2006, she received her Ph.D. in History from the University of New Brunswick, where she studied with labour historian Dr. Greg Kealey. She was appointed to a tenure-track position in History at the University of Winnipeg in 2011. The sympathy of her research and teaching interests with those of other members of the UW History Department, and the commitment to Winnipeg's West End that she shares with the University, are part of what attracted her to this position. She loves being able to live and work in this community.
Thiessen was the 2014 recipient of the University of Winnipeg's Faculty of Arts Excellence in Undergraduate Teaching Award. Her research and teaching interests include the 20th-century history of labour, business, and religion, as well as food history and oral history. She is the author of Manufacturing Mennonites: Work and Religion in Post-War Manitoba (University of Toronto Press), a business and labour history of Palliser (furniture), Loewen (windows), and Friesens (printers). Reviewers have described Manufacturing Mennonites as "a pioneering work" and a potential "model for other scholars examining the relationships between religion and corporate culture" and have noted her "welcome ability to listen carefully to her participants' testimony while simultaneously interrogating their language with an eye to the wider history of work, community, and religion."
Thiessen is revising her second book, Not Talking Union, which is a comparative North American oral history that explores the linkages between business, labour, and lived religion in the lives of an urban ethno-religious minority in the post-1945 period. Her current research project is the social history of Canadian snack foods. The book resulting from this research, titled Project Wonka, will be published by University of Manitoba Press. All three of these research projects have been SSHRC funded.
Thiessen serves as the editor of Oral History Forum d'histoire orale (the journal of the Canadian Oral History Association) and is president of the Canadian Committee on Labour History.
WEB: janisthiessen.ca
TWITTER: @janisthiessen