Dr. Peter Ives
Faculty of Arts
---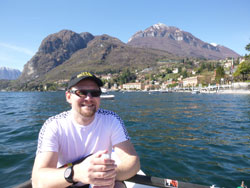 Dr. Peter Ives
Peter Ives was born and raised in Boulder, Colorado. He received a B.A. (1991) in Political Science from Reed College, Portland, Oregon, an M.A. (1992) and Ph.D. (1998) in Social & Political Thought from York University, Toronto. After teaching at Simon Fraser University in Vancouver, and the University of Manitoba, he joined the faculty at the University of Winnipeg in 2000. His teaching focuses on contemporary political theory and the history of political thought and cultural politics. In addition to teaching in the Political Science Department, Professor Ives teaches in the M.A. Cultural Studies Programme.
Dr. Peter Ives is active in service to the university and an advocate for his Department and the University, but what we'd like to highlight here is his exceptional research.  A full professor after only thirteen years at the University of Winnipeg, he is considered to be one of the world's leading experts on Antonio Gramsci, an Italian writer, theorist, politician and linguist.  Peter's work has been translated into a number of languages and the demand to hear what he has to say carries him to conferences all over the world.  
"Peter brings to his scholarship a remarkable passion for ideas and a desire to bring to a particular problem all the intellectual resources at his disposal—and opening a book like his award-winning Gramsci's Politics of Language: Engaging the Bakhtin Circle and the Frankfurt School (University of Toronto, 2004), where he moves effortlessly, for instance, from Marx to Saussure by way of Croce and Derrida, often in the same paragraph, one sees that these resources are formidable," says Dr. Glenn Moulaison, Dean of Arts. 

Here Dr. Ives talks about his research and the experiences that have influenced his work:
My first job teaching was not unlike many others. I taught English as an additional language. And not unlike many other English teachers, my only real qualification was that I was a native-born English speaker. On one hand, I was utterly frightened. But on the other hand, I loved the unexpected nature of the classroom. What was not clear to me then was how much impact this experience of teaching English in Iceland would have on my future research path. I taught only a few hours a week squeezed between learning Icelandic at the University, working in an old-folks home and doing research on the Icelandic Women's Alliance for my undergraduate honours thesis. 
My graduate work in Social & Political Thought at York University in Toronto was absorbed by questions of language, culture and politics framed in terms of debates between Marxism and post-structuralism. I specialized in the writings of Antonio Gramsci, one of the founders of the Italian Communist Party who was imprisoned by Mussolini. The notebooks that he composed in prison became some of the most influential writings of the 20th century on politics, culture, history and education. I have emphasized the importance in those writings of questions of language politics. These include Gramsci's own university studies in linguistics and experiences as a Sardinian living through the history of the standardization of the Italian language. 
My current research looks at the relationship between the advent of 'global English' – that is the massive increase mostly in non-native speakers using English across the globe – and political theory. Since the development of the modern nation-state, language and its standardization have been key components of nation-building and citizenship. A major function of national public education systems throughout modern nation-states has been to teach the standard national language (or in a few places like Canada languages) to its citizens in order to galvanize identity and facilitate communication and participation. Language and education policy has been used to exclude, regulate and demand the assimilation of various minority, immigrant and marginalized groups of people. It has also been premised on the notion that a language is defined, owned and controlled by its native speakers.
My work shows how the outnumbering of native English speakers by non-native users changes this terrain. Despite either the resounding silences concerning language politics in the mountains of research and debate on globalization, or the media and academic treatments of 'global English' as the result of individuals choosing to learn English, it is still the education policies of nation-states that are actually responsible for the teaching English often in the name of making their citizens and work-forces competitive on the global market. My work looks at the intersection between language as a commodified object, a potential skill-set for workers, and a medium of expression especially of identity. I locate global English in the spaces and tensions between global capitalism and political communities.


Archive of Featured Researchers in Arts