Dr. Jason Hannan
Faculty of Arts
---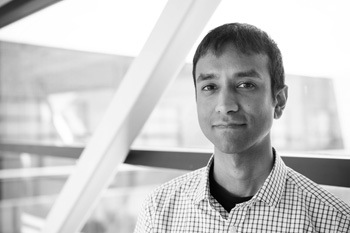 Dr. Jason Hannan, Rhetoric, Writing, and Communications
(Photo credit: Rachel Berg)
Dr. Jason Hannan is Assistant Professor in the Department of Rhetoric, Writing, and Communications at the University of Winnipeg. Prior to joining UWinnipeg in 2013, he was a SSHRC postdoctoral fellow in the Program in Rhetoric and Public Culture at Northwestern University. His research interests include bioethics and medical humanities, rhetoric and political theory, and the philosophy of communication. 


He is the editor of Philosophical Profiles in the Theory of Communication (Peter Lang, 2012) and Truth in the Public Sphere (Lexington, forthcoming). His articles have appeared in Communication Theory, Contemporary Pragmatism, Review of Communication, Empedocles: European Journal for the Philosophy of Communication, RASK: International Journal for Language and Communication, and Intellectual History Review.

In reflecting on his work, Dr. Jaqueline McLeod Rogers states that: "Jason Hannan is able to connect current events to serious topics like truth telling and medical ethics. He helps students reflect on how much of our thinking is governed by the politics of telling. What's best is that he conducts his research with a respect for life that provides a good working model for students and colleagues both."
Dr. Jason Hannan

Dr. Jason Hannan's primary area of interest is moral disagreement in a pluralistic world. In his recent article, "Moral Discourse Without Foundations," he compares two of the leading political theorists of our time, Jurgen Habermas and Alasdair MacIntyre, to understand the challenge of democratic dialogue in the absence of a universal morality. This piece was published in Communication Theory. In "Justice Implicit: The Pragmatism of Amartya Sen," Dr. Hannan proposes that we think of justice, not as fixed, timeless, and universal, but as continuously evolving through the medium of public reasoning. This piece was published in Contemporary Pragmatism.

His article, "Alasdair MacIntyre's Contribution to Communication Theory," examines the challenges of communicating about ethics and justice across deep cultural and linguistic differences. Dr. Hannan develops an answer to this challenge through the thought of Alasdair MacIntyre. This paper was published in Empodocles: European Journal for the Philosophy of Communication and received the Top Article Award by the Philosophy of Communication Division of the National Communication Association in 2014. The article serves as the basis for Dr. Hannan's book manuscript entitled, Radical Disagreement: The Agonism of Alasdair MacIntyre.

Dr. Hannan's interest in bioethics and medical humanities stems from his work as a former policy analyst for the Canadian Medical Protection Association. His core research interest in this field concerns euthanasia and assisted suicide. He recently published a chapter entitled, "Is There a Right to Die: Assisted Suicide and the Rhetoric of Rights," in Andrew R. Smith's Radical Conflict: Essays on Violence, Intractability, and Communication (Lexington, 2016). He also received a Major Research Grant from the University of Winnipeg for a project entitled, "Ars Novum Moriendi: Assisted Suicide as the New Art of Dying." In this project, Dr. Hannan compares contemporary practices of physician-assisted suicide to the medieval Catholic art of dying, with the aim of providing a humanistic perspective on the modern desire for a meaningful death.
In commenting on his research, Dr. Glenn Moulaison, Dean of Arts, states that "Jason's award-winning work sheds a light on a number of pressing contemporary issues by situating them within a broad discursive framework. It is this type of contextualized engagement and commitment that scholarship in the humanities is best able to provide."

In addition to his scholarly work, Dr. Hannan teaches courses in the rhetoric of medicine, rhetoric and pluralism, the rhetoric of animality, and communication theory.

Academia.edu Profile: https://uwinnipeg.academia.edu/JasonHannan
Archive of Featured Researchers in Arts