Dr. Pauline Greenhill
Faculty of Arts
---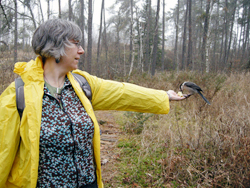 Dr. Pauline Greenhill is not one to leave the usual, the accepted or the standard alone, untried or untested. She takes another look at what many of us have left in our pasts. She looks at fairy tales and the like, and we might just want to take another look too.
Dr. Greenhill has been a professor in the Department of Women's and Gender Studies program since 1991. Over that time she has garnered such awards as the Chicago Folklore Prize as well as the Elli Köngäs-Maranda Professional/Non-Student Prize and the Wayland Hand Prize from The American Folklore Society. She has also been both a member and officer of various professional organizations. Along the way, she has managed to secure over $1,000,000 in research and funding support. She is a busy woman.
According to Dr. Fiona Green, Associate Dean of the Faculty of Arts and former Chair of the Department of Women's and Gender Studies, Dr. Greenhill is a force in the classroom, who mentors her students in her classes and in her research, and also involves them in her publications. Students, she says, benefit from the multi-disciplinary approach that best describes Dr. Greenhill's teaching and research.
Dr. Greenhill's current work looks at fairy tales, which, she notes, have been "told and retold across nations and cultures for centuries. Fairy tales have recently been re-conceptualised in a multitude of forms… Though some offer straightforward tellings, others parody the story, alter its genre (e.g. from wonder to horror) and/or place it in contemporary settings. This research program asks what makes fairy tales so tractable but also so useful." Check out her most recent work Trangressive Tales: Queering the Grimms, a book she co-edited with Kay Turner, and available this month.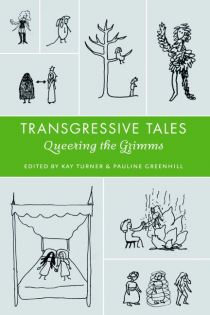 Dr. Greenhill finds new concerns around sex, gender and sexuality, as well as new connections to modern social issues like crime and unrest. Her current scholarship is looking specifically at how film has impacted the genre. Yet, whether a film, a graphic novel, or a traditional storybook, fairy tales still have much to say. Dr. Greenhill and her colleagues are both listening and retelling those stories.
For more about Dr. Greenhill's research and publications, please click here. For information about the Department of Women's and Gender Studies and its courses, please click here.
"Transgressive Tales: Queering the Grimms," a new book that Dr. Greenhill co-edited with Kay Turner, reexamines the Grimm brothers' fairy tales, looking in particular at the queer themes in these.