Arts welcomes Alan Srinivasachari
Thu. Sep. 29, 2022
The Faculty of Arts is pleased to welcome Alan Srinivasachari (he/they). Mr. Srinivasachari started in April 2022 as a Department Assistant for the Departments of Classics, Philosophy, and Women's and Gender Studies and Disability Studies. The Departments are appreciative of Alan's ability to step in and contribute immediately.
Peter Miller, Chair of the Department of Classics, states that "Alan is an energetic and dynamic presence on the fourth floor of Graham Hall. We were fortunate to hire someone with a strong knowledge of the University as a student and staff member, and he brings that institutional knowledge to every part of his job."
Sharanpal Ruprai is Chair of the Department of Women's and Gender Studies and the Disability Studies Program. Dr. Ruprai shares that, "Alan has shown commitment and motivation to their role as DA. They are familiar with the campus as they were a student not so long ago! Alan has a lively personality and brings with them a rich presence to our workplace."
Thank you to Alan for sharing their bio and a photo as below.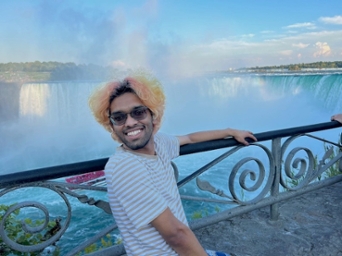 Dr. Miller states that Alan Srinivasachari "is an energetic and dynamic presence on the fourth floor of Graham Hall."
Photo supplied


Bio: Born and raised in India with western values. Moved to Winnipeg in December 2017 as a student at the UofW. Graduated with a 3 yr BA in Classics (June 2022). Worked with Campus Living as a Resident Advisor and Guest Services Assistant, as a Mentor with International, Immigrant and Refugee Student Services, as well as a Research Assistant for Jenny Wills, Professor in the English Department, for the Critical Race Network. Also worked at Starbucks on campus and managed Dash (Diversity Food Services). 
I speak English, French and Tamil. I enjoy baking, reading and hiking. I love spending time with my dogs and shopping (clothing and shoes, retail therapy for the win!). 
PS: Glenn Moulaison (Dean of Arts) used to stop by every morning for a tall blonde roast at Starbucks.