Meet next Chair of SOC
Thu. Mar. 2, 2017
Dr. Colin Goff will be the Chair of the Department of Sociology as of July 1, 2017. After completing his dissertation (University of California), Dr. Goff taught for a period of time on the west coast (Simon Fraser University) and then on the east coast (University of New Brunswick) before accepting a position here at the University of Winnipeg, where is known to be an approachable and dedicated colleague and professor. Dr. Goff is committed to and passionate about his research interests. We are fortunate to have him at the University of Winnipeg and as the next Department Chair of Sociology.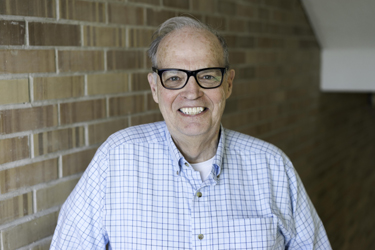 Photo credit: Rachel Berg

Dr. Colin Goff
Colin Goff was born and raised in North Vancouver, B.C. He received his B.A.in Sociology in 1973 and his M.A. in Sociology at the University of Calgary in 1976. His M.A. thesis, Corporate Crime in Canada, was published by Prentice-Hall in 1978; this was the second time a Master's thesis in Sociology was published in Canada (the first being Wallace Clements The Canadian Corporate Elite). He then continued his studies at the University of California, Irvine, where he studied under Gilbert Geis, who kept the area of white-collar crime 'alive' in the 1960's and early 1970's. His PhD was titled The Intellectual History of Edwin Sutherland's White Collar Crime and a number of articles have been published from it, most notably the introductory chapter (along with Gilbert Geis) in the publication of Edwin Sutherland's White Collar Crime: The Uncut Version published by Yale University Press in 1983.
He then taught at the School of Criminology at Simon Fraser University for one year and, although he had a major research grant from the University to continue his work there, accepted a tenure track position at the University of New Brunswick, Fredericton. While there, he continued publishing in the area of white-collar and environmental crime, as well as historical Criminology. After 8 years in Fredericton, he came to the University of Winnipeg and continued his work in white-collar and environmental crime. Since then, he has published a number of articles in environmental crime, the history of criminology and two books, Corrections in Canada in 1999, and Criminal Justice in Canada, which is now in its seventh edition. He is currently working on a manuscript on the work and legacy of Edwin Sutherland as well as a number of articles on animals.