Journal "Crossings" a treasure
Faculty of Arts
---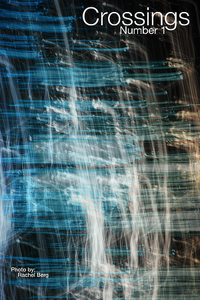 "Crossings, Number 1", the new multidisciplinary journal for students.
Even the beautiful cover art by Rachel Berg suggests something special is inside.
As a student it's that chance to try your hand at more advanced work, in this case publishing, but in a supportive context. It's an excellent background if you're moving on to graduate school or a professional program, but it's also developing practical skills that would assist you in finding your place in the job market, if that's what you need.


It's opportunities like these that make the University of Winnipeg special to its students, according to Jane Barter. But, as Dr. Barter explains, Crossings is also of value to the extent that it contributes the ongoing dialogue on important issues.
It was a big undertaking for all those involved – faculty and students alike. Barter, however, considers the work as editor, a "privilege". She states: "Walter Benjamin once observed that "all human knowledge, if it can be justified, must take on no other form than that of interpretation."1 It is a great privilege to work with those who have handed down the delicate and difficult task of interpretation" ("Editor's Introduction" to Crossings, 2017, p. 11).
For all it has to offer, in both its creation and final form, Crossings is – in a word – a treasure.
1Walter Benjamin, The Correspondence of Walter Benjamin 1910 – 1940, eds. Gershom Sholem and Theodor Adorno, trans. Mandfred and Evelyn Jacobson (Chicago: University of Chicago Press, 1994), 125.
Click here to go to a feature about the launch of Crossings.