Writer-in-Residence Lecture
Faculty of Arts
---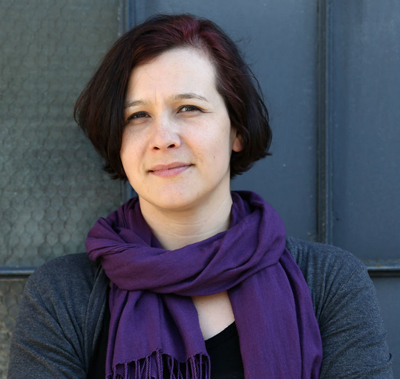 Katherena Vermette
(photo supplied)

On March 8, 2017, Katherena Vermette, the University of Winnipeg's 2017 Carol Shields Writer-in-Residence, Métis writer, and UWinnipeg Arts alumna, gave the Writer-in-Residence Lecture. Vermette's first novel, The Break, was shortlisted for the Governor General's Literary Award for Fiction, the Rogers Trust Fiction Prize, was a finalist for CBC's Canada Reads 2017, and received three awards at the Manitoba Book Awards. On this day, she shared readings from The Break and then, while answering questions from the audience, she spoke about the writing process in a way that inspired emerging writers of all ages.

About the novel
Katherena Vermette shared that the novel, The Break, started ten years ago as Stella's (Stella Rose Charles McGregor is one of the characters in the novel) children were roughly the same age as her own. Her writing, she says, has "long gestational periods." The novel originated as four stories in a larger collection as a master's thesis. This became an overview of what ended up being this novel. She didn't know much about writing a novel, she says. It was a narrative that came to her in pieces.
An important aspect of the novel, she explains, is that it is told from multiple points of view and focusses on an assault and a community's reaction to that assault. She wanted to talk about how when things happen, they are part of a larger context, such as the legacy of sexual violence that affects many people. This is why writing from the multiple points of viewed worked, she says, and though it was difficult, the editors helped it make sense.
Each of the chapters is named for the character who is talking. There is only one unnamed voice, and this voice opens each of the four parts of the book. Vermette likens this "other-worldly" voice to the "sky-woman" in Indigenous literature as someone who is looking down like a lost family member. Toward the end of the novel, you realize that this voice is also part of the circle of the other women. The novel also deals with loss and how it is that when we lose someone, they still have a place in our lives, even for years after they are gone.
Open to questions
Did the book have to be set in Winnipeg's North End, or could it have been set in another city, such as Vancouver or Toronto?
KV starts by acknowledging that in the novel, she never actually says that it is set in Winnipeg. While the street names situate it here, to a certain extent, it is a universal story as well. And, even though it's fictional, she adds, she does have a connection to it in some ways, where for example, she lived in a house along "the break" when her children were small.
Did you have a particular time frame in mind?
KV states that most of the story takes place in three days during a full moon. The characters are thinking about experiences in their own lives in flashbacks. One of the challenges was the need to keep track of "everyone."  With so many characters and multiple points of view, she found that keeping the timeline short was a way of helping with that.
When you're writing, do you feel like you are exposing what is personal?
KV shares that she writes her poetry from life, but that her fiction is more like stories she has made up based on her experiences. She describes the process of editing as a process through which you desensitize yourself from the personal aspects of your work.
Process of editing:
The first draft is raw and you feel really good about it at this stage. But it's also the case that when it's close to you and your experience, it is the most raw.


At this stage, you come back to your work and you feel like you don't really like it.


The editing process is the process through which you are trying to get back to liking the work again. This process also takes away some of the rawness and is a process of desensitizing yourself to it. As you make it better, you get more and more used to it.
Here, Ms. Vermette also shared the following:
Typically, she likes to share her work only when it is really polished. And while she was able to do that during her undergraduate degree at UWinnipeg, when she did her MFA at UBC, she had to share before she was ready, because of the pace of the program. That, she says, turned out to be okay too.


She thinks of writing as a conversation and as a contribution to a larger body of work, i.e., women writers, men writers, Indigenous writers. Her writing is what she wants to share as part of that larger body of work.
Your writing is so beautiful. How much do you bring poetry into your work and do you read your manuscript aloud?
KV shares that she does read aloud because she hears it differently than when she reads it to herself. She thinks she is a poet before anything else; it's her genre. Her children's books have a poetic quality too.
What time of day do you do your best work?
KV admits that she does lots of "inspiration driven work," going with it when it's coming to you easily. Her ideal writing day is after her family leaves for school. She feels she's most creative when she's fresh in the morning, but acknowledges that everyone's different and that over the years of trial and error, you find what works for you. She says that she often finds the impetus for work on the bus, adding that it is also a good place to write – when you can get a seat!
Are you "a plotter or a pantser" (a pantser is someone who "flies by the seat of their pants")?
For KV, it is both, she says. But when she is sitting down to write she doesn't know what's going to happen. This, she says, reminds her of something retired writer and professor David Arnason once said during a writing seminar: "I don't want to write a story I know the end to. I want to be part of the adventure." Vermette says she too likes to be surprised and lets the characters lead her, so she says, "For me, it would be pantsing, plotting, pantsing, plotting, and then I stand back and put it together."
Can you imagine the characters beyond the end of this book?
KV reveals that at first she thought this novel could be part of a trilogy, and she does have a sense of where it would go. But for now, she says, she is leaving it for a rest, but could revisit it at some time in the future.
Do you write for your imagined audience?
KV shares that she wants to have something to contribute to a conversation, but she also feels that you have to write for yourself and ultimately that feeds both yourself and the reader.
Are you where you saw yourself getting to be? How do you deal with crushing defeat when your expectations aren't matching with reality, i.e., you haven't written your first novel by age 20?!
KV shares that she felt like she was late publishing her first book at 35 years of age, but by then, she had worked on her writing for nine years. She says she is where she dreamt she would be. She just knew she would write and she loved doing it, so she kept at it. "Sometimes," she says, "It feels like it is not my life, because it feels so amazing." She continues, "But every writer develops in their own time," adding that, "Some writers retire and then start writing!"