Visiting Lecturer Dr. Dell, as shared by Kiana Jaymes
Faculty of Arts
---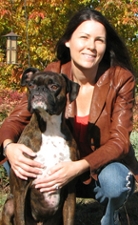 Colleen Anne Dell, a graduate of UWinnipeg with a B.A. (Honours) in Sociology and now a faculty member at the University of Saskatchewan, is pictured here with therapeutic dog, Subie.


UWinnipeg alumna, Dr. Colleen Anne Dell gave a talk "Providing Pawsitive Support – Animal Assisted Interventions", as visiting lecturer on November 26, 2016. Kiana Jaymes attended Dr. Dell's talk and agreed to share her write up on it with us, as below.


I was lucky enough to be amongst those in attendance for a unique presentation by the Department of Sociology. Providing Pawsitive Support -Animal Assisted Interventions (AAI) in the Treatment of Addictions by the esteemed Dr. Colleen Anne Dell (University of Saskatchewan). Dr. Dell spoke on the importance of a community based approach and Indigenous inclusivity under the umbrella of 'ONE HEALTH'. One Health is a concept that includes animals, humans, the environment, spiritual and holistic health. Dr. Dell emphasized the importance of the human animal bond, for those of us who have four-legged family members we know this to be an undeniable truth. She went on to share the various health benefits of companion animals, some of which include: developing better immunity, serving as agents of harm reduction, and decreasing opioid use in clinical settings.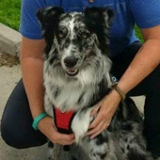 One of the highlights of the presentation was seeing firsthand the benefits of AAI (Canine specifically) outcomes. Master warrant officer Kelly Smith and her service dog 'Spot' (an AUDEAMUS trained canine specifically for veterans living with PTSD), see left, gave the presentation special meaning. Kelly relayed her experiences with heartfelt courage, she shared how anxiety and terror had claimed from her parts of her life she fought to maintain. She began her story with Spot giving her a hug, he could sense her nervousness. The room fell quiet as she spoke of her first night with Spot as he woke her from a night terror. She had wakened to a face full of kisses and two paws on her chest, as he was trained to do, bringing her safely and slowly back into reality. There were few dry eyes in the house as she spoke, yet Spot remained poised and regal, ever vigilant at Kelly's side, as she commended his service. Kelly held back tears as she said with thanks for Spot that she truly would not be where she is today, living a fuller and more joyful life if it were not for him.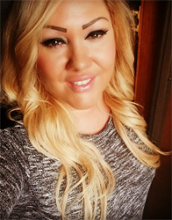 Kiana Jaymes is a first year pre-psychiatric nursing student studying at University of Winnipeg and University of Brandon respectively. She plans to continue her studies within the nursing program through the Winnipeg site.