UWinnipeg's Colin Russell
Faculty of Arts
---
The Faculty of Arts is planning a series of features as part of UWinnipeg's celebration of its 50th anniversary. As the first in this series, we profile someone who is known to many – faculty, staff and students alike – and that is University Registrar, Colin Russell.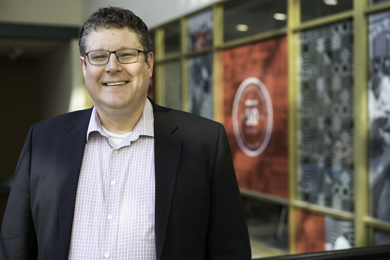 What some may not know is that Colin is a UWinnipeg Arts alumnus (BA (Honours) in English and BEd). And since he started the first degree, Colin has become involved in many aspects of UWinnipeg life and work over the years. He is even uniquely part of UWinnipeg's convocation ceremonies, because among his talents and abilities, he is also a classically-trained singer.

UWinnipeg's Registrar, Colin Russell
Photo credit: Rachel Berg


Fiona Green, Associate Dean of Arts, has worked with him in a number of capacities. She had this to say:
Colin Russell's open, respectful, tactful and quiet demeanor, along with his longstanding institutional memory based on his personal experience with the University of Winnipeg over many years in varied positions (as resident, student, instructor, and administrator), make him a unique and irreplaceable member of our community. He is well aware of and sympathetic to the complexities of being a student, while also understanding the experiences of faculty members and knowing the intricacies of the University as an institution. Colin easily brings those perspectives to his interactions with all members of the University community and to the multiple components of his position as University Registrar. We are extremely fortunate to have Colin at the University of Winnipeg.
Recently, I met with him to find out more about his life and work at UWinnipeg.

Let me start by asking what degrees you have?
CR: I have a BA (Honours) in English and a degree in Education with English and French as teachables, also from UWinnipeg, and an MA in English from the University of Manitoba.
When did you start working at the University of Winnipeg?
CR: The day before classes in my first year of university, I started working as a 16 mm film projectionist in Media Services, showing films in classes. It was ideal work because you could just schedule hours around your classes.
It could hardly have been more convenient, as Colin goes on to say, "I lived on the 4th floor of Graham Hall [the men's residence at that time] and worked on the 3rd floor!"
After graduation, Colin says he took a term position as a reference distribution clerk, and also did some tutoring and some marking. His next position was as an advisor in Academic Advising. He eventually became Director, before undertaking his current position as Registrar.
What does your work as University Registrar entail?
 CR: I sit on various Senate committees and I deal with non-academic misconduct. I deal with partnerships with outside schools and programs; for example, the University offers courses jointly with Cancercare for students in the Radiation Therapy program. I deal with joint programs the University has with Red River College and Assiniboine Community College. I'm a liaison with the Province for our program approvals, dual credits, and transfer initiatives. As well, I oversee student records, including registration, transcripts, convocation, and the Student Information System. As well, I'm presently Acting Director of Admissions and Awards and Financial Aid.
Did you have a favourite prof and/or course as an undergrad?
CR: I really enjoyed an English class "Modern Fiction in Translation" with Neil Besner (Provost and Vice-President, Academic) and Don Jewison (retired professor), studying the work of Thomas Mann, Jean-Paul Sartre, Franz Kafka, Marcel Proust, and Latin American authors such as Gabriel García Márquez and Jorge Luis Borges.
In addition to his work as Registrar, Colin also teaches in the Department of English. What is the biggest (positive) change you've seen in students over the years?
CR: I find that students are more likely to challenge things and to ask for help, in situations in which students in the past may just have accepted what happened to them and not addressed situations where they might have been able to make a difference.
What do you see as being the biggest challenge for the university over the years?
CR: The financial issues are probably the biggest challenge, i.e., having funds to keep doing the work we are doing. It's always difficult to construct a budget.
When you think of the challenges and pleasures of teaching over the past 50 years, what's changed and what's stayed the same for you?
CR: The rapport with students and the relationship with the class has stayed the same. A challenge – and an opportunity – has been the increased use of technology, where for example, there is more interaction by e-mail and through the learning management system. It can really enhance what we do in the classroom; but it can distance people that rely on it too much. How do you maintain personal contact with students in that case?
What would your message be now to a student who was interested in doing an Arts degree?
CR: An Arts degree still provides people with the best opportunity to develop communication skills, problem solving, critical thinking and analytical skills.