UWinnipeg and Dr. Robert Young: A serendipitous relationship
Faculty of Arts
---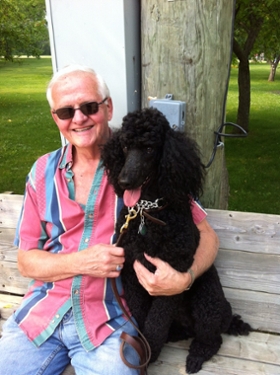 Dr. Robert Young, Professor Emeritus and Fellow of United College, with Mystère


After years of working and studying at the University of Manitoba, I came to work at the University of Winnipeg. I remember two things clearly about that change. One was the moment I second-guessed myself. I was essentially starting over and wasn't maybe so sure this was a good idea, after all. And, I also remember the enthusiastic response I got from University of Winnipeg alumni when I would say where I worked. "University of Winnipeg – that's where I went!" I was taken aback at first; I didn't feel anything like that toward my alma mater. But now, all these years later, I understand the feeling, and I think it has to do with UWinnipeg's faculty members and their relationships with our students. That is a reason to be proud of what we do here.

In Forty Years Professing: Tips & Thoughts for Undergrads and Teachers (Yaleave Books, 2006), Robert (Bob) Young, Professor Emeritus and Fellow of United College*, shares insights that he has accumulated over four decades as a History professor. Of most interest to me is the emphasis he places on the importance of building relationships with students. Today, he still maintains relationships with students he taught in the '60s, '70s and on until his retirement in 2008. For Young, it is about the students and getting the best out of each of them. As he says in Forty Years Professing, "As gratifying and rewarding as teaching can be to the professor, it is first and foremost about the student" (p. 40). Now as I am profiling UWinnipeg alumni, faculty and staff to celebrate the University's 50th anniversary, I wanted to speak with Dr. Young.
As a member of this community, I would like to share the following statement from the Awards and Distinctions page on the University's website which speaks to the impact Dr. Young has had on the University: "Young represents the very best of UWinnipeg with regards to its espousal of scholarship, fluent and comprehensible teaching, and a deep commitment to intellectual inquiry as the basis of making a better world" (https://www.uwinnipeg.ca/awards-distinctions/fellowship-united-college/young.html (accessed on September 29, 2017).
Dr. James Hanley, Chair of the History Department, offers the following anecdote as a way of acknowledging Dr. Young's long-term bonds with his students.
"When I joined the University in 1999, one of the first non-classroom lectures I was invited to give was to The European Studies Association, a group of alumni of Bob's courses who met 1-2 times per term on a Friday evening to hear a talk on European history. At least 30 turned out on a cold February Friday evening to listen to me talk about Darwin. And Bob made a point of inviting two former students he thought my wife and I, newcomers to Winnipeg, should meet, and they are now our oldest friends in Winnipeg. I have never forgotten this experience, which illustrates both Bob's ability to inspire lifelong learning among his students and his generosity to a new colleague."
Interview with Dr. Young
In your book Forty Years Professing, you put emphasis on the professor as a mentor. Was there a university professor that was important to you?
Dr. Young states that university was a positive experience, but, he says, there was not a specific person that was a mentor to him per se. For him, the way his academic life unfolded was "serendipitous". He had started first year at the University of Saskatchewan with plans to be a teacher. His English professor asked if he had considered doing an Honours program in English. Young said, "If I were to do an Honours degree, I would do it in history." And so it was that he was introduced to the Chair of the History Department, Dr. Hilda Neatby. When Young was in the fourth year of his undergraduate degree, a history professor asked, "What about doing a Master's degree?" And so he applied for grad school. When it came time to consider a topic for his thesis, another prof asked "How about a thesis on French documents?" When it came time to consider doing a PhD, Young was able to access a local scholarship. There had been a young scholar from Saskatchewan who was killed in the war and a scholarship had been set up in remembrance of him. The recipient was to go the London School of Economics. Young says he applied for and received that scholarship. And so it was that after his MA defense on the 9th of September, he was married on the 11th, and, later that day, he and Kathryn Young left for England.
The job market had been strong in the early 1960s, but during the year Young was applying for positions, most applicants were receiving only one offer. Young's one offer was from the University of Winnipeg. The year he was hired in the History Department, 1968, there were six new hires including Young. The faculty of the department doubled from six to 12 that year, and he had five new profs as colleagues.
Young adds that when he and Kathryn first came to Winnipeg, they thought they would spend a year or two here before applying elsewhere. But soon, he says, they realized how lucky they were to have such a good lifestyle and one which was so affordable. Serendipitous.
In your experience, highly regarded professors are those who are "demanding". Can you say a bit about why you think that is?
For Young, the answer to this question has to do with the relationship between the professor and student. Students, he says, understand if their mark is appropriate to their work. If the mark is higher than merited, this doesn't inspire confidence and trust in the professor.
As a parent of a daughter starting Grade 10, I read with special interest your tips for students writing essays. Can you talk a bit about these?
Young thought it was important, as a professor, to be clear about what he was asking for and to give students detailed written feedback (as much as a full page, single-spaced) on their essays. He felt that if the feedback consisted of comments scratched in the margins of the paper, the tone, etc. could be easily misinterpreted. The essay guide he developed originated as guidelines he wrote up to assist markers for his first year course.
Feedback on the final product was important to Young. But so was the beginning of the work. To get students started Young would give them several questions to select from. These always involved an analysis so that students couldn't just write a "story". And, to ensure students didn't wait until the essay was due to begin it, Young would ask that each student see him during office hours to talk about their essay with him.
The beginning of your career as a university professor coincides closely with the beginning of UWinnipeg's life as a university. As we reflect on the University's 50th anniversary and from your experience as part of it, what would you most like to see carried forward?
Young states he would like to see the authentic commitment to the academic and personal wellbeing of students continued going forward.
One message that is clear in Forty Year Professing is the importance you attribute to engagement in campus life, for faculty and for students. Could you say more about that?
For Young, to be a professor is to teach, to research, to comment, and to be criticized. Faculty can get caught up with teaching and committee work, but Young feels it is really important for profs to attend campus events as well.
Young, himself, organized a European Studies group that ran for 30 years. That group ran on Friday evenings and included both faculty and students, and, eventually, alumni, and sometimes even parents or spouses. The group was always a good way to have some downtime with one another.
Young is not a proponent of further growth in size. He feels one loses something the bigger one gets, especially in the classrooms and in faculty/student relationships.

I feel confident in saying that the difference Dr. Young was able to make at the University of Winnipeg was in the relationships he made with students. How this came to be, Young is modest about. (In Forty Year Professing, he attributes this, in part, to the smaller classes – a "serendipitous" result of the lack of larger-sized classrooms at UWinnipeg.) In Forty Years Professing, he encourages faculty to be similarly involved. In particular, he cautions colleagues that they need to "engage in the intellectual life of this place, to support the efforts of university colleagues to promote that life, and to set for your students an example of engagement. . . If you understand this, with your talents, you will make an immeasurable contribution to the life of this place and to the lives of your students. If you do not, you may spend thirty years here, and leave, and no one will notice or care" (p. 20-21).
__________________________
* Dr. Young received both the Clifford J. Robson Memorial Award for Teaching Excellence and the Erica and Arnold Rogers Award for Excellence in Research. He was awarded Canadian Professor of the Year in 1996 by the Canadian Council for the Advancement of Education.
Lisa McLean
Faculty of Arts