James Wilson
Alumni
---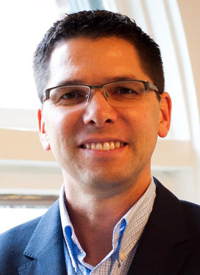 B.A., U.S.T.C., M.Ed.
James Wilson is a dedicated educator from Opaskwayak Cree Nation, who currently serves as the Treaty Commissioner for the Treaty Relations Commission of Manitoba.  In his position as Commissioner, Mr. Wilson works to strengthen, rebuild and enhance the Treaty relationship and mutual respect between First Nations and Manitobans through public education, research and facilitation. He strives to increase understanding of the Treaties province-wide through educational initiatives at the K-12 and post-secondary levels. Mr. Wilson facilitates many formal and informal partnerships and opportunities for discussion, and is committed to community service. He serves in a variety of roles, including as Chair of the Healthy Child Advisory Committee, as a member of The University of Winnipeg's Indigenous Advisory Circle, and as a committee member of The Coalition for Educational Opportunities. His commitment to education and cultural awareness is also expressed in his columns in the Winnipeg Free Press.
Mr. Wilson's roots with the University run deep; he is a graduate of the Collegiate ('86), and graduated with a Bachelor of Arts in Cultural Anthropology from The University of Winnipeg ('90).  He went on to receive a Master's degree in Education Administration from the University of Manitoba, and a U.S. multi-subject teaching credential from California State University in Sacramento.  
Mr. Wilson has taught from kindergarten to grade twelve in public schools, on-reserve, and in U.S. charter schools.  He has worked as a school counsellor and curriculum developer, and has worked toward the improvement of graduation rates and post-secondary education enrollment in Manitoba.  His impressive résumé also includes a distinguished military career; he has served on the U.S. Army's Special Operations and the Canadian Forces.
Mr. Wilson has previously been honoured with prestigious awards such as the Distinguished Honour Graduate award from U.S. Army's Special Operations; The Chamber of Commerce Citizen of the Year (The Pas, 2008); as well as environmental awards for his outdoor education program in Opaskwayak Cree Nation.
For his extensive work in the community, dedication to education, and promotion of cultural awareness and understanding, the Alumni Association is honoured to present Mr. James Wilson with the Distinguished Alumni Award.