Larry Updike
Alumni
---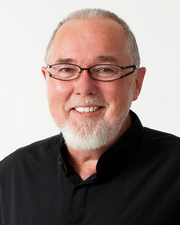 Larry has been performing in public since he was 10-years-old. It is all he has ever known. As a boy he sang and played to audiences all over southern Ontario as part of a family singing ensemble.
Larry leapt through high school, finished theological training and was an ordained minister by the age of 21. His radio career began as a means to supplement his income at a small parish but it quickly became his full time career. By the early '80s he was becoming well known in rock radio in Winnipeg as part of the legendary "Tom and Larry Show".
In 1995, Larry went to news-talk station CJOB/68 where he helped create an evening talk show, hosted the drive home show and finally moved to "The CJOB Morning Show" where he remained for nine years. In the autumn of 2009 Larry was inducted into the Manitoba Broadcaster's Hall of Fame.
While continuing to build on his profession, Larry went back to school and finished a B.Th. (Theology) at the University of Winnipeg in 1986. Subsequently he proceeded to undertake and complete a second degree, a B.A. (Philosophy).  Larry won the university's "Plato Prize" during his later course of studies and in 2010 was given the honour of Distinguished Alumni.
Larry has been an advocate for the less fortunate during his career. He was awarded the Queen Elizabeth II Jubilee Medal for his work with the War Amps and has been an advocate for individuals with autism ever since his son Gordon's diagnosis in 1994. From September 2009 until August 2010 Larry worked as a spokesperson for Siloam Mission, advocating on behalf of those experiencing poverty and homelessness.
In his spare time, Larry enjoys time with his family and still plays guitar and sings.
Listen to Larry on Up to Speed, weekdays from 3-6 p.m. on CBC Radio One 89.3 FM / 990 AM.