Andi Sharma
Alumni
---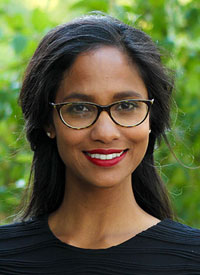 BComm (Hons), MPA 
As a policy analyst with the Government of Manitoba's Indigenous and Northern Relations Healthy Foods Initiative, Andi Sharma is internationally recognized for her forward-thinking research into social enterprise, poverty, and world food systems. She has published the results of her research in a number of public and scholarly journals, and has been invited to present her work in several international venues across the United States, Barbados, and Switzerland.
Sharma obtained a 4-year honours-level Bachelor of Commerce degree in 2010 from The University of Manitoba and a Masters of Public Administration jointly from The University of Manitoba and The University of Winnipeg in 2013. She is currently working towards her pilot's license (supported by an Amelia Earhart Scholarship established by the Manitoba Chapter of the Canadian 99's International Association of Women Pilots), which reflects her deep commitment to providing food supplies to Northern Indigenous communities in remote locations.
This year, Sharma will serve as the 2017 Ambassador for Social Protection by the United Nations Development Programme. As a Winnipeg Food Council member, she advises the City of Winnipeg's mayor and council on food system-related issues across Manitoba.
Having emigrated from Barbados to Canada in 1997, Sharma is dedicated to supporting communities of immigrant and refugee women in Canada in her role as the President of The Immigrant Women's Association of Manitoba.
A highly driven and successful young professional in her chosen field, Sharma is a visionary whose ambition, industrious and hard-working nature, and passion for social enterprise has already made an indelible impact on the city of Winnipeg, the province of Manitoba, and the international community. The University of Winnipeg Alumni Association is proud to recognize Andi Sharma with the Distinguished Alumni Award.