Peter J. Norton
Alumni
---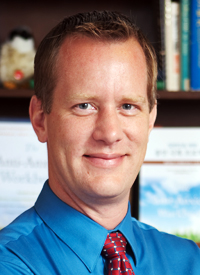 BA, MA, MSc
Dr. Norton graduated from The University of Winnipeg in 1995 with a B.A. in Psychology and Sports Science. He went on to attain his Masters of Science in Sports Psychology from The University of Western Australia and his Masters of Arts in Clinical Psychology at The University of Nebraska-Lincoln. In 2003, after completing his pre-doctoral residency at The University of British Columbia Hospital, Dr. Norton obtained his PhD in Clinical Psychology from The University of Nebraska-Lincoln.
Currently, Dr. Norton is applying his expertise and skills at the University of Houston's Department of Psychology as a Professor of Psychology. He is also the founder and Director of the University of Houston Anxiety Disorder Clinic, a specialty research, treatment and graduate-training clinic accessible to many individuals who might otherwise be unable to afford treatment, as it is the only low-cost specialty anxiety treatment centre in Houston.
Dr. Norton is dedicated to providing low-cost treatment to patients – essential because it is estimated only fifteen to twenty per cent of people receive adequate treatment for anxiety-related problems. Much of Dr. Norton's work focuses on increasing dissemination of evidence-based treatment practices and increasing accessibility of such treatments for individuals with anxiety disorders. He co-authored The Anti-Anxiety Workbook, which takes the best practices of clinical psychology and puts them into a how-to manual format aimed at people suffering anxiety disorders.
Dr. Norton is recognized as a leading researcher in the field of anxiety disorders. He has authored three books and nearly 100 scientific journal articles or book chapters. His papers have been cited 1,369 times, an achievement that could be expected of a researcher after 22 years, but which Dr. Norton has achieved in just 12 years.  His clinical and service work have made a difference in many lives.
In 2009, Dr. Norton received Theodore Blau Early Career Award for Outstanding Contribution to Professional Clinical Psychology from the American Psychological Society. He has received numerous awards and research grants from the U.S. National Institute of Mental Health, U.S. National Institute for Drug Abuse, University of Nebraska-Lincoln, University of Houston, Anxiety Disorders Association of America, and from the American Psychological Association.
For his academic achievement, excellence in teaching and research, outstanding contributions to his field, and care and commitment to people experiencing anxiety disorders, Dr. Norton was selected for the Distinguished Alumni Award by a vote of the University of Winnipeg Alumni Council, the representative body of University of Winnipeg alumni, a group comprised of more than 42,000 graduates of The University, United College, Wesley College and the Professional, Applied and Continuing Education.