Raymond L. McFeetors
Alumni
---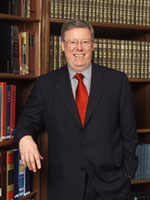 Just after graduating in 1968 from The University of Winnipeg with his BA in Economics, Raymond McFeetors began his career at Great-West Life as a trainee in the Group Division.  Twenty-four years later, in 1992, he assumed the position of President and CEO of the company, one of Canada's leading life and health insurers.  He has overseen the acquisition of London Life in 1997 and Canada Life in 2003; the expansion into the wealth management sector; and, the naming of Great-West as one of Canada's top 100 employers (The Guide to Canada's Best Places to Work, 2004).
Prior to entering The Collegiate and The University of Winnipeg, McFeetors spent three years in the Canadian Air Force as an Airborne Communications Technician, where he developed a passion for planes. He is still a licensed pilot and is also an Honorary Colonel for the Royal Winnipeg Rifles.
McFeetors is involved broadly in community causes and business affairs, including serving as a member on the Boards of Cancercare Manitoba, Investors Group, Inc., MTS, the Shaw Festival, and the University of Western Ontario.
To honour his great achievements in the business world and in the community, Raymond McFeetors was presented with the Fall 2005 University of Winnipeg Distinguished Alumni Award.