Margo Goodhand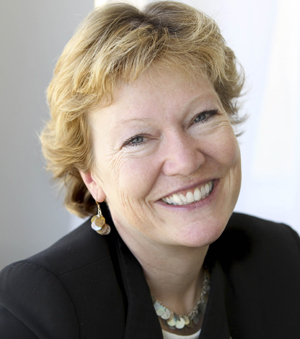 Margo Goodhand is a leader and a mentor. Through her great achievements she has made her mark in the world of journalism and in her local community.
Born and raised in Winnipeg, she graduated from The University of Winnipeg in 1979 with an honours degree in Politics and English. Goodhand then went on to complete post-graduate studies in Journalism in British Columbia.
Her career began as a journalist for the West Ender in Vancouver. From there she became the first female news editor in Medicine Hat. This led to working for both the Winnipeg Sun and the Winnipeg Free Press. Goodhand has been a reporter, columnist, copy editor, and section editor. As a result of her journalistic talent and dedication, in 2007 Goodhand was named Editor of the Winnipeg Free Press.
Under her leadership, the Winnipeg Free Press won the Excellence Award from the Canadian Journalism Foundation and a Michener Citation for meritorious public service journalism in 2009. Goodhand published the first ever "pink" newspaper in 2008 as a way to increase awareness of breast cancer. This endeavour raised thousands of dollars and the paper became a well known souvenir. This kind of dynamism and creativity has become the hallmark of the paper and has established the Winnipeg Free Press as one of the leading newspapers in Canada.
Goodhand believes in the integrity of journalism and is an active mentor to journalists and students. She serves on the National Newspaper Board of Governors, the Winnipeg Poverty Reduction Council, the John Dafoe Foundation Board of Governors and the President's Advisory Council for the University of Manitoba.
As seen through her many accomplishments, she takes great pride in her work as well as in her community. Goodhand continues to provide people with a voice and brings light to issues that matter to Manitobans.