Ida Albo
Alumni
---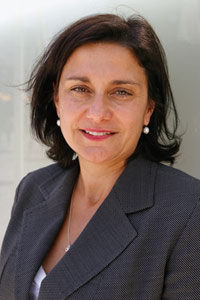 BA(Hons.), MA
Ida Albo, co-owner of Yoga Public and The Fort Garry Hotel, Spa and Conference Centre is a hotelier, entrepreneur, yoga practitioner, economist, restaurateur, philanthropist and volunteer.
She earned a Bachelor of Arts (Honours) degree in Economics from The University of Winnipeg in 1981 and a Master of Arts degree in Economics from Queen's University in 1982. Albo worked as an economist for the Government of Canada in the Departments of Human Resources and Finance, and as an economics lecturer at The University of Winnipeg and the University of Manitoba.
She has demonstrated incredible energy, leadership, caring, and commitment to Winnipeg and its citizens, especially in the areas of economic, social and cultural development and revitalization, education, and health. Among her many volunteer commitments, she has served The University of Winnipeg as a member of its Alumni Association Council, as a University of Winnipeg Regent, and as a University of Winnipeg Foundation board member.
Ida Albo has served numerous other community and charitable organizations as well, among them CentreVenture Development Corporation, as Chair; and as a board member for the Tourism Association of Winnipeg; Canadian Tourism Commission; Health Sciences Centre Research Foundation; Citizens Against Impaired Driving and the Pan Am Clinic Foundation. Albo is also Chair of the Guardian Angel Benefit Committee for the CancerCare Manitoba Foundation.
Albo's energy, entrepreneurial spirit, and enthusiasm for learning and adventure have also been key to the successful hospitality business ventures undertaken by Albo and her partner Rick Bel. Albo worked to restore The Fort Garry Hotel, originally built in 1913 as a Grand Trunk Pacific Railway Hotel and transformed it into one of Winnipeg's finest hotels and most popular event venues. She has travelled far and wide to find inspiration and the necessary knowledge to create unique experiences for customers in Winnipeg. Albo attended a school of esthetics in Chicago before opening TenSpa in 2005, which features a hamam (a Turkish-style bath) and cutting-edge spa treatments. Her passionate belief in the benefits of yoga led Albo to train as a yoga instructor in Venice Beach, California and to open Yoga Public,a 20,000 square foot yoga facility, in downtown Winnipeg in February 2012.
The University of Winnipeg Alumni Association's Distinguished Alumni Award honours graduates of The University of Winnipeg who have distinguished themselves in either their chosen profession or in their community. Ida Albo has done both, and, in the words of nominator, restaurateur Vinay Iyer (BSc '10), "She still continues to be incredibly helpful, down to earth and a very humble human being."