Adult Learner: Tanis Kolisnyk
Adult Learner Services
---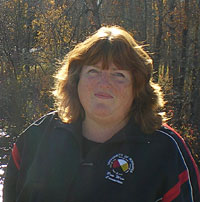 Masters of Arts, Theology student, aspiration – Chaplain
My name is Tanis Kolisnyk and I am an adult learner at UWinnipeg. I work full-time as the UWinnipeg Aboriginal Liaison Officer and also serve as a Music Director and Organist in an Anglican church in Winnipeg. My husband Lorne and I have been married for 32 years and we have raised four grown children and now have one grandchild. Life is full and good.
Flexible learning environment at UWinnipeg
One of the strengths of UWinnipeg is that it provides a flexible learning environment where you can explore new areas of study and set new goals. Balancing family life, work responsibilities and class time is challenging at times, but very much worth the effort. I have two mottos that I hold on to:  1) enjoy the journey, and 2) hope that life is long.
Support from Manitoba Métis Federation
I did not begin at the UWinnipeg until I was 35 years of age but knew that education was the key to changing my future. At first, I would take one course at a time as I could afford it. It was a Métis Elder in my community who told me about a bursary that I should apply for. It would help open the doors to getting that degree that I always dreamt about. My initial thought was; who was going to help a 35 year old women with four kids go back to school? I was never an "A" student.
The Manitoba Métis Federation (MMF) saw my need and did help me for two years to come to the UWinnipeg. This was a turning point. A bursary relieved a financial barrier for me and my Métis community said by their actions, that they believed that I could do this. I am grateful for MMF's help and I try to give back by volunteering and being active in my Métis community today.
Always loved working with people
Throughout my life, I have always loved working with people and I am a spiritual person with hopes and dreams of continuing my work with people in need, possibly as a Chaplain. My job at the UWinnipeg has taken me to First Nations and Métis communities all over the province where I have seen great need but also great potential. There are times in all our lives when we are overwhelmed by difficulties, times when our own resources are not enough. This is when it is important to have courage and to call on the resilience of the spirit.
My studies in Theology have been exciting and have confirmed my belief that in the greatest darkness, the light shines brightest. Living a life of faith is about recognizing the value in each person and celebrating the diversity of God's creation. At UWinnipeg, my theological roots are becoming deep enough to grasp the truths and strong enough to be effective where I will eventually be planted.