Adult Learner: Lisa Johnson
Adult Learner Services
---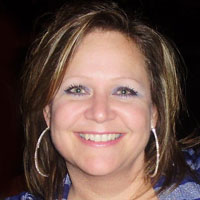 A dream fulfilled – a university degree!
As long as I can remember, I have dreamed of obtaining a University degree. My drive was nurtured by my unquenchable thirst for life-long learning, and also because I wanted to be the best role model possible for my three children.
What education means to me
After completing my first few courses, I quickly discovered the benefits of my education 'beyond the classroom'. The knowledge and exposure transposed into my own personal growth and development, helping me become the confident, well rounded, and dynamic individual I am today. But it certainly wasn't without its challenges. Finding time to juggle studying, reading assignments, and writing papers along with my full time jobs as both employee and mother I found it exhausting at times. Although there were times I questioned and even doubted my efforts, quitting and/or failure was not an option. My education was how I identified myself, and it added tremendously to my sense of purpose and self-worth. It also satisfied my creative outlet and eliminated any chance of boredom in my otherwise routine life.
What education can do for you
There were so many eclectic subject and topic areas covered in both the Psychology and Conflict Resolution Studies program, I was elated with the anticipation of each new and unique learning opportunity availed to me. Beyond employment and earning opportunities, there are endless benefits to expanding one's repertoire of knowledge and educational experience. Along with gaining the skills and tools you need for your chosen career path, an education prepares and equips a person for life! Since the world we live in is ever-changing and unpredictable, the benefits of an education better prepares people to meet life's challenges: to function, cope, and succeed, and to help others do the same.  
My degree has recharged me
To me, learning is like breathing – it is absolutely necessary! It creates opportunity, curiosity, and stretches the mind beyond what we may imagine is possible. Following graduation, I plan to continue my educational journey by pursuing a Masters degree while working in my chosen field.  Having completed my 3-year degree, I now feel invincible and recharged! Learning is a treasure, and I feel blessed that I am able to share the richness of my education with everyone who touches my life.