Adult Learner: John Harvie
Adult Learner Services
---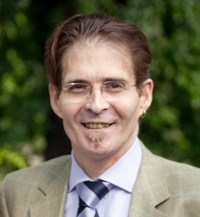 Skilled communicator battles illness, goes for degree
When life doesn't go as planned
My adventures in academia began in the early nineties when I was still serving in the Air Force.  I had carefully planned out completing my degree in education to correspond with the end of my 20-year tour.  But as with many plans, they don't always turn out.  Crohn's Disease ended my Air Force career and my Long Term Disability plan did not cover University.  It did cover Community College, so I completed a Creative Communications diploma with Honours and entered the workforce. Unfortunately, my Crohn's Disease flared too frequently to hold down a full time job.
Building on my learning experience
My rehab counsellor recognized that my skills as a communicator coupled with my 13 years of military experience could be developed into a series of services I could provide to fellow brothers and sisters in arms who were, like myself, transitioning from their military careers to the civilian workforce. Working from home, at my own pace, I was able to provide my services even when the Crohn's flared.  To broaden my knowledge, I enrolled in and completed the University of Winnipeg's Continuing Education Human Resources diploma program and the Career Employment Coach Certificate.
During this time I was also involved with the University of Manitoba's Inflammatory Bowel Disease clinic as a test subject for a series of drug studies to find a treatment that would alleviate the debilitating effects and the severe bouts of pain some of us with Crohn's Disease experience.  After several studies I was put on the Humira study which proved to be the most effective treatment for my form of Crohn's Disease.  So much so that I am now able to pick up where I left off and continue my quest for a university degree.
University has been revitalizing, nurturing and rewarding
I continue to provide my services to my clients and I am able to take two classes each term, which has me on track to complete the Joint Program Communications degree in 2012.
It has been a long and very winding road but one I would not forego.  In an age of life-long learning, University of Winnipeg has always offered an academic program that fit my challenges and my experience has been revitalizing, nurturing and most rewarding.  So much so, I now hope to pursue graduate studies. But that goal isn't the prize it's the journey that is golden.