Adult Learner: Janet Hamilton
Adult Learner Services
---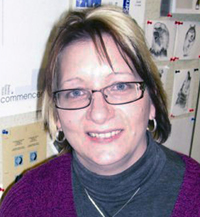 Graphic arts teacher working towards BEd
How I got to University!
In 1982 I was sixteen years old when high school abruptly ended for me. I had not quite finished grade 11 at Tec Voc High School in Winnipeg, Manitoba when I discovered I was pregnant. It wasn't as though I was asked to leave school; I just figured that because of my predicament I needed to look at preparing myself on being a mother. Although I had the support of my boyfriend, I had very little from my family.
Learning a trade
During my short time at Tec Voc High, I acquired skills in Graphic Arts, enough skills to land a job as a photographic printer in a portrait studio. Juggling day care and making ends meet was a daily challenge.  After a couple of years of working in the studio's darkroom, I left to work for a large printing company. For the next thirteen years I was fortunate to have had many opportunities to learn more about the graphics trade, working on the latest print related equipment.
My personnel life was also changing. I had moved on to a new relationship, surprisingly I married my boss. He was a full time single father of 3 small children. Around this time I received an invitation in my mailbox inviting me to an information session at Victor Mager Junior High School. The government sponsored program was recruiting for a new adult literacy program aimed at teaching adults the academic skills required to write the high school equivalency exam. I quickly signed up when I read that they also offered free babysitting! After attending the program part time for 6 months I wrote my GED and passed.
Baby steps, grade 12, Voc Ed Teacher program, then . . .
Accomplishing my goal of completing my grade 12 gave me the confidence to want to learn more. My next plan was to take a few computer graphic courses at Winnipeg Technical College and get right back into the print industry. My plan didn't quite work out that way. As a student attending the college, my instructor was impressed with my graphics experience and encouraged me to apply as his teaching substitute.  After a year of substituting, I enrolled in the Vocational Industrial Teacher program at Red River College. I completed the program in 2002 with honours. On to my next goal—Bachelor of Education!
Obtaining my degree with tremendous support
I had substituted for a few years before my graphics instructor retired in 2007. I had applied for his position and I was thrilled when I was chosen to replace him. Currently, I'm employed full time in the graphics department at college and attending classes part time at the University of Winnipeg, working towards completing my education degree.
I really can't express how proud I was of myself the first day I attended the university. I sincerely believe there was no way I could have gotten this close to completing my educational goal without the tremendous support of my teachers, mentors and advisors. My personal commitment is to strive to return the same support to my own students. Pay it forward so to speak.