Adult Learner: J. Bruce Jamieson
Adult Learner Services
---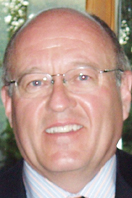 Business certificate grad pursues a degree
In 1971, when I graduated high school, my grandparents offered me an extremely generous proposition for my post-secondary education – attend any Canadian university and they would cover the costs! Stupidly and defiantly, I rejected the offer – much to their and my mother's chagrin!
However, as I grew older, I felt an academic void in my life.
Last opportunity to earn a degree
In 2004, the University of Winnipeg launched a pilot program where graduates of the Certificate in Management program (CIM), of which I was one, would be credited with hours towards a Bachelor of Business Administration degree. I attended an information session to understand the details of the program, and what level of effort it entailed. Just to close the deal, my employer would pay the entire cost. I was not about to squander a second golden opportunity. At age 51, I knew this would be the last opportunity I would ever have to earn a degree.
I enrolled in the program and started my quest. After the first few courses, the demands of working full time, excessive overtime, personal obligations, and keeping up with the course requirements made me question my decision, and commitment, to pursue the degree.
However, during one of those classes, Grace O'Farrell, a teacher, stated: "…all those diplomas and certificates you have are nice, but it is really a degree that counts." That was all I needed to soldier on.
Graduation day for my wife and I
Finally, and after many long hours and hard work, on June 4, 2009, at age 56, I graduated with a Bachelor of Business Administration degree, along with earning the University Silver Medal for the second highest standing in Business and Economics (4-year course).  (I jest that there were only three in the graduating class). Coincidentally, my wife graduated the Registered Nurses program at Red River College on the very same day. I had not attended any convocation in my life, but here I attended two. Both, adult graduates!
Incidentally, my graduation came ten months after I retired from my 35-year career. My degree was much more than for business, it was personal!
More life long learning
One thing I learned during classes at the main campus is how many brilliant minds there are. After so many years in business and management I thought I knew, well, almost everything. But I discovered that the more I learned, the less I really knew…
I feel I have a few laps left in me and I have returned to the University of Winnipeg. I am enrolled in the Public Relations diploma program in the Division of Continuing Education. I have completed three courses and look forward to a new and different career; the opportunities are boundless.
For me, I will never forget the sense of accomplishment, and yes, relief, in earning my degree. Albeit I was little late to the "grad," I know that my parents and grandparents would be very proud of my achievements and perseverance – I am.