Adult Learner: Hélène Massicotte
Adult Learner Services
---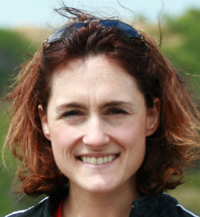 Telecom professional; expands horizons to Kinesiology
I did my undergraduate Bachelor of Arts in Administrative Studies at the University of Winnipeg, graduating in 1997 and then proceeded to complete my Masters of Business Administration (MBA) at the University of Manitoba in 1999. After 9 years in the workforce, working in Strategic Planning and Marketing in the fast-paced telecommunications sector, I felt the need to expand my horizons once again.

UWinnipeg's downtown location = easy access to classes
In the fall of 2008, at age 33, a love of fitness was the deciding factor in choosing to start part-time studies in a brand new area: Kinesiology. The University of Winnipeg's central location enabled me to attend classes during my lunch hour or right after work. In January 2011, with the full support of my amazing husband Luc, I started a 4-month unpaid leave from my full time job to take a 6-course load to accelerate my degree. The experience is outstanding.
Benefits of life long learning
The pursuit of this second major has opened my eyes to new ways of thinking, to knowledge that is enhancing my overall understanding of what it means to lead a balanced and full life and has given me a chance to take a break from my career – a mini retirement to "refuel" so to speak. When I complete my studies, I do not intend to change my career path, but will, enhance it with the information and network I established during my time on campus.
You are never too old for school. I plan to be a life long learner, both inside and outside of formal education. Who knows what I will be studying in my 40s…only time will tell!