Adult Learner: Dawn Kraychuk
Adult Learner Services
---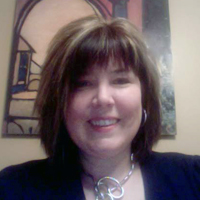 Position outsourced; creates opportunity to pursue degree
I have recently been informed that my position as IT Manager in a firm I had worked for 22 years has been restructured and outsourced. This new information comes as a shock, but is also a turning point and positive incentive to pursue my education in my area of interest as well as to enhance my qualifications and career choices.
Learning about technology similar to life skills development
I have always had a desire to pursue technology from my early stages in life, being intrigued by the then popular video games, how they were developed, and the need to excel in the progression of the games. I now understand it to be similar in how life skills develop; seeking out an interest, attempt to understand it, and use those underlying skills to excel in the outcome.
Everyone has a unique perspective of how their earlier experiences affect life choices. The path to learning is constantly progressing perhaps without us even being aware. Learning as described in the Merriam Webster dictionary is:
the act or experience of one that learns
knowledge or skill acquired by instruction or study
modification of a behavioural tendency by experience (as exposure to conditioning)
Life choices influenced by family and friends
My journey has incorporated each of these definitions to bring me to the choices I now face in how I want to mold my career, my contributions to society and ultimately how to plan the rest of my life.  My family and friends have played a major role in determining how I view my interactions with others and the importance of life choices, especially my mother who worked hard to bring up my brother, sister and myself after my dad passed away when I was a year and a half old.
Education direction influenced by work
I always wanted to expand my formal education and after working in an administrative capacity in the legal environment for a period of time, I was interested in pursuing a law degree (Family Law).  I initially attended the U of W in 1992 part-time evenings towards that path.  My career focus took a turn when I accepted a position to take over the firm's IT department because of my passion for technology. I then left university to pursue "accelerated" courses in technology part time while immersing myself in my new job functions.
After several years and many major project implementations, I decided that I had an unfulfilled need to complete my university degree and have since shifted the focus to a business degree to complement my IT skills which I had accumulated over 16 years in that role.
Combining knowledge in technology and business administrative degree
I believe that I have finally found my niche in my ability to be a liaison between technical concepts and business principles.  I am now on the path to obtaining my business administration degree with a goal to one day be able to use my experience and prior knowledge to help businesses progress with their technological goals.
University has given me the confidence to improve my abilities and has made me realize that it is never too late to expand on your skills whether it is based on past employment or life lessons.  I hope that society can realize there is so much untapped potential from this demographic and that universities will be able to further assist adult learners in pursuing their dreams with incentives and promotions scaled to their needs.