Adult Learner: Claudette Michell
Adult Learner Services
---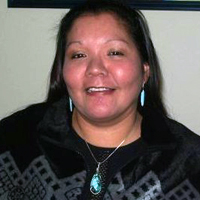 Education and empowerment
Tansi,
Education opens the doorway of opportunity!
I am a Cree woman and an Adult Learner who attained an Honours Degree with a Double Major in Aboriginal Governance and Conflict Resolution. I took the steps needed to open the doors necessary for me to be able to financially support my young family. I am a single mother of four and also a grandmother of two boys. My youngest child was born while I was completing my degree in university. Currently, I am employed at the University of Winnipeg, as Program Coordinator for Urban and Inner-City Studies. I really love my job as it allows me to support and assist other adult learners and "non-traditional" students in getting into and staying in university to complete a degree.
As a young person education was out of my reach
My educational career has been wrought with many ups and downs.  When I was a youth, I had experienced what can only be called racism in a small northern community. This, along with dysfunction in my own family, defeated my attempts at a regular education. I had never attended a high school, as I was asked to leave school at a young age for standing up and defending myself on number occasions when situations arose that involved racism or belittling towards me. As a result of this and the dysfunction in my family, I was placed in Child and Family Services. In the different group homes and lock up institutions that I was placed, I never attended normal classes. I was always placed in classes for "special" students. There was no real structure in the education that I received from then on into my adulthood.
Gained self-confidence through holistic healing journey
It was when I became an adult and young mother at 17 that I began seeing the value of what education could do for me. I was aware now that in order to support my daughter I would need an education to do so. I was on Employment and Income Assistance for many years and at times. I would go back to school here and there. I had even graduated from Business Administration in the north but still did not feel capable of acquiring employment to support us. It wasn't until after relocating to Winnipeg and going on what I call a "holistic" healing journey that I was able to get the self-confidence needed to become successful in my attempts to learn and work.
University helped me understand my Indigenous identity
This is what I mean by saying education opened many doors for me. The University of Winnipeg has played an important role in allowing me to 'reclaim' and 'claim' my Indigenous identity. While studying at U of W, I took many courses that allowed me to open my mind and explore the historical and systemic instances that impacted Indigenous peoples of Turtle Island. It was by gaining an understanding and taking this information further that I was able to find the "healing" that I needed in order to become a successful student and employee at the U of W.
Future goal – graduate studies
My journey will not end here, I intend to open yet another doorway for myself and my family and pursue a Master's Degree in the near future. I encourage others to open that door for yourself and you will be surprised at how your life can be changed and impacted through education and the growth you can achieve by sharing your own life experiences with others on a similar journey. Ekosi!  
Claudette passed away on October 5, 2012. She modeled determination, courage and belief in herself and others. Her legacy will live on in all the people she touched.