Adult Learner: Cindy Hiebert
Adult Learner Services
---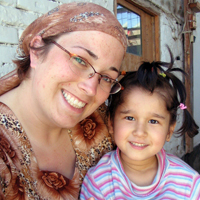 Tajikistan volunteer term leads to interest in BA
In 2001, after graduating high school, I enrolled in university with no sense of direction. I enrolled in general sciences, as that was where I was strongest in high school. Not long into my first year I found myself overwhelmed by the demands of my courses and my interest and drive dwindling. My general lack of focus soon led to a mountain of either poorly done or uncompleted assignments. I withdrew from classes desperate to find purpose and meaning to invest my time and energy into.
Finds niche through international experience
After a number of years working a variety of jobs, I started looking at volunteer opportunities abroad. I soon agreed to a two-year volunteer term with an international humanitarian aid organization in Tajikistan and started raising funds. My first few months in this foreign country were far more difficult than I had ever imagined. At first nothing seemed to go as planned. The projects I was to be involved with were suspended due to government negotiations, when starting on a new project, co-workers and I were regularly meeting with government officials, and within a week of joining a new team the leader had a heart attack and I was left to arrange a medical evacuation. The pressure of these events partnered with all the many challenges involved in aid and development work in a foreign country was intense. It was in the midst of these challenging events that I started to feel most alive and recognized that this was my niche.
Pursuit of International Development Studies degree toward rewarding career
With only a high school education, I quickly recognised that if this was a career that I wanted to pursue long term, I needed more schooling and in 2009 returned to Canada to enrol at the University of Winnipeg. Now, two years through my degree in International Development, I have been fortunate enough to secure an 8-month internship once again in Tajikistan assisting the director of a humanitarian organization. In a few months I look forward to putting my hard earned skills to use for a period of time before returning to complete my final year of studies. I look forward with great anticipation to seeing the methods and theories of my studies come to life. I have no doubt that an exciting and rewarding career lies ahead for me.