Adult Learner: Bryan Hall
Adult Learner Services
---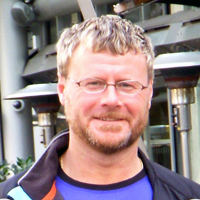 Leaves successful career to pursue true passion
My decision to go back to university as an 'Adult Learner" was a long time in the making. I had gone to University in my early 20's as well as college, but also embarked on a career in the investment and finance world. This necessitated my pursuit of industry related courses to become better at my job, not too mention a heavy load work-wise to build my career. As a result my traditional academic path fell by the wayside. It was something I regretted for many years, but I could not see how it would benefit my career, which I was successful in and believed I would be in for many years. I always had a passion for learning, sadly most of it was driven towards the business aspect of my career, rather than my true passions for the origins of humanity and the evolution of cultures and traditions.
Life altering events lead to second chance!
After a series of personal tragedies I found myself no longer in the career I had spent fifteen years building. The tragedies culminated with a mugging at a bank machine where I suffered severe head injuries and almost lost my life. From there was a yearlong period of hospital stays and surgeries, as well as counseling to help overcome the ordeal. I had been told initially that due to the brain damage, I would likely suffer some permanent impairment such as losing my ability to walk, my eyesight, or my speech. It was at this time, I began to despair, but I came into my faith during this period, and my life slowly improved.
When I looked into what I may do for my life, I decided that though the money was very rewarding in my former business, I did not enjoy many parts of it, except for the aspect of helping people. I took a lesser job to help pay the bills, and it came to me one night, "Why not go back to University and pursue what you love, and maybe you can help others more significantly by doing what your heartfelt interests lie in?" This scared me at first, as I was not sure how my learning had been impaired by the head injuries but I took the initiative to pick up an application form for the UW and submit it. The student and academic advising people have been positive, very helpful and supportive from the start. That was nearly three years ago, and though I started off slowly with one course a semester, the rewards have been building. What appears to be a miracle in recovery, the University experience, combined with a healthy lifestyle, my faith, and helping others who have suffered misfortunes have all been instrumental in a dynamic second chance at life!
Why University of Winnipeg?
I chose the UW because of a number of factors, some of them listed below:
I had previously attended twenty years ago.
The diversity of faculties and humanities
The classroom size made it possible to develop a positive working relationship with the Professors, who in my experience have been marvelous. It's nice to walk into a new course and have the Professor call you by your first name, remembering you from another course he or she taught.
The University's 'community feel' and ambiance make it a warm environment to learn.
The convenience of its downtown campus, and ease of getting around to various departments.
I recently graduated with a 3 Year BA in Religion & Culture and I am continuing my studies in pursuit of an Anthropology Honours Degree. I honestly love going to school, and I love the UW. There are so many facets of this journey of life to learn and discover. I thank my academic pursuits for enriching my life at a later age. Thank you University of Winnipeg and all your staff!!!