Accommodations
Accessibility Services (AS) and Deaf & Hard of Hearing Services (DHoHS)
---
To request academic accommodations for invisible/visible disabilities or medical conditions:
Contact AS at 204.786.9771 and set up an appointment for a new student intake. If you are a student who is Deaf or Hard of Hearing, new student intakes may be arranged by contacting Deaf and Hard of Hearing Services staff directly.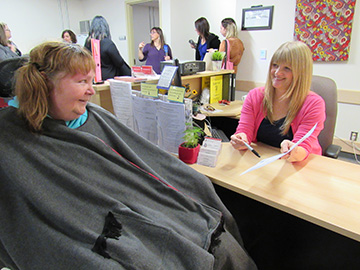 Meet with AS Staff:
Please make an appointment to discuss and arrange your academic accommodations with an Accessibility Advisor or the Coordinator of Deaf & Hard of Hearing Services.
Obtain your Documentation:
AS requires relevant medical documentation regarding:
the general nature of the disability/medical condition
functional limitations
recommended academic accommodations
Meet with your Instructors and Introduce Yourself:
Students are encouraged to introduce themselves to their course instructors to discuss their academic accommodations. Instructors are a very important part of the accommodation planning process. The sooner students contact and inform them of their academic accommodations, the sooner each instructor can begin to help with the provision of these academic accommodations.
AS staff can assist you in this process by providing you with a confidential Letter of Introduction for each of your instructors. Students registered with AS should request this service from AS within the first two weeks of lectures/labs of each term. The content of these Letters of Introduction will be discussed at the first interview with you and an AS professional. We are also available to meet with you and your instructor to facilitate your academic accommodations.
Keep Us Informed!
Let AS staff know of any difficulties you may be having. We also need to know of any changes that take place (e.g., course changes, updates to your personal information such as telephone number or email address).
Eligible Disabilities/Medical Conditions for Academic Accommodations:
Below is a list of disabilities and other medical conditions that would be eligible for academic accommodations through AS and DHoHS:
Anxiety/depression
Attention deficit/hyperactive disorder
Blind or low vision
Brain injury
Chemical Sensitivity
Chronic medical condition
Deaf/Hard of Hearing
Learning disability
Physical/mobility
Psychological/psychiatric disorder
Or a temporary disability (i.e., a broken arm)
If you feel that your condition is not represented on this list, please feel free to still set up an appointment to discuss possible academic accommodation arrangements.
< Back to Accessibility Services and the Accessibility Resource Centre Home