Overview
Master's in Development Practice (MDP) in Indigenous Development
---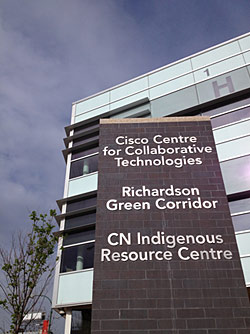 The CN Indigenous Resource Centre (CNIRC) is a hub for learning about Indigenous development practice in Canada and around the world.
Situated on Treaty 1 lands, in the Heart of the Metis nation, the centre is a meeting place for students, faculty and development practitioners from non governmental organization, private, government and all other sectors.
The Centre takes advantage of two of UWinnipeg's cutting-edge innovations: the new Science Complex & Richardson College for the Environment and the Cisco TelePresence system. Located on the third floor of the Science Complex, it is an integral part of the Richardson College for the Environment, a consortium of the University's research and applied policy units in areas of sustainability, urban studies and development.