Spring & Summer Institutes
BA in Human Rights
---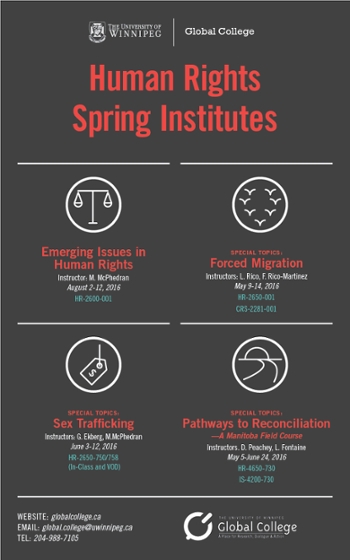 Emerging Issues in Human Rights

HR-2600-001
Instructor: M. McPhedran (requires permission of the instructor)
Dates: August 2-12, 2016 daily (except August 7)

This intensive jump start course is designed to introduce students, in a range of disciplines and students entering university, to challenges and opportunities in global to local human rights, by cultivating foundational skills for academic success. In both classroom and community settings, students explore global issues using the city as our human rights 'campus' through current news items, literature, and social analysis from diverse perspectives, shaped by research expertise in Global College.
---
May 2016
Special Topics: Trafficking in Persons: Local to Global Dimension (In-Class and Online)
HR-2650-750/758
Instructor: M. McPhedran
Dates: June 3-12, 2016

The course explores the inter-connections between prostitution and human trafficking, and assesses judicial, state, and non-state responses to human trafficking over the past 40 years. This course looks at victim protection initiatives, and the implementation of human trafficking prevention and reduction strategies in Manitoba, Canada, and internationally.
Special Topics: Practitioner Perspectives on Forced Migration: Roots, Causes and Intersectionality

HR-2650-001/CRS-2281-001
Instructors: L. Rico, F. Rico-Martinez
Dates: May 9-14, 2016

This course analyzes the complicated relationships between identity and forced migration, in terms of both the causes of forced migration, and how refugees are perceived and treated in Canada. The course will analyze a variety of government responses, such as removal, prosecution, rejection, protection, or integration, as well as community responses, including advocacy efforts. This Special Topics course is offered in conjunction with the Canadian Association for Refugee and Forced Migration Studies conference May 11-14 and conference participation will be a portion of the course.
Special Topics: Pathways to Reconciliation - A Manitoba Field Course

HR-4650-730 (crosslisted IS-4200-730)
Instructors: D. Peachey, L. Fontaine
May 5-June 24, 2016
The course explores issues of reconciliation within the context of Indigenous and other communities in Manitoba. The course will examine public understandings of what the Truth and Reconciliation Commission of Canada has accomplished with respect to the legacy of residential schools, and the work that remains to be done in the area of relationship building. However, the course will cover a variety of topics that are broader than the residential schools. It will contemplate relationships between Indigenous peoples and other communities within historical and contemporary contexts. It will also examine the use of concepts such as truth and memory as possible vehicles for change. The course will include a participation in a major national conference, Pathways to Reconciliation, June 15-18, 2016. Some sessions will be held on campus, while sessions will be held elsewhere in Winnipeg, Rosseau River, and Altona.Permission of instructor required. Cross-listed: IS-4200 and GIS-7200.
---
Student Video Testimonies
Click on the names below to hear student video testimonials from previous Spring and Summer Institute courses: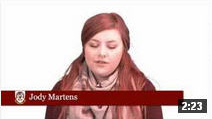 "...an experience you wouldn't normally get in a normal university course..." 
---
"...if I hadn't taken these courses, I don't know if my passion and desire to further my knowledge and understanding in this area would have continued..." 
---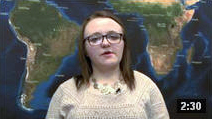 "...these institutes have helped me to explore more specialized topics within the field of human rights..." 
---
"...I would recommend these classes to all students who want convenience and accessibility..."
Registration Information
Every Spring and Summer the Global College offers intensive 3 credit hour courses on a range of special topics with visiting scholars from around the world. These Institutes generally run for a two week period with daily lectures offered in class or online. Students are invited to take advantage of the unique opportunity to learn from global experts on topics such as slavery, migration, terrorism, democracy, disability and global 
Spring and Summer Institutes have extremely condensed timelines, and generally involve one to two weeks of intensive lectures, followed by a reporting/writing period. Please pay close attention to the class dates and assignment deadlines, and ensure you will be able to participate fully for the duration of the course, including submitting assignments after the intensive lectures have finished.
Please Note: Students are strongly advised that taking 2 summer institutes in the same 2 week period has proven to be highly demanding. We recommend that students think very carefully before they take more than one (1) summer institute course offered in one(1) two-week period.
•Most Spring and Summer Institutes have an online component - access to high speed internet is required in order to fully participate in these courses.
---
Contact
For registration assistance, please contact us at global.college@uwinnipeg.ca